Jodi Arias' Jail Inmates Tell Nancy Grace About Drug Addictions Behind Bars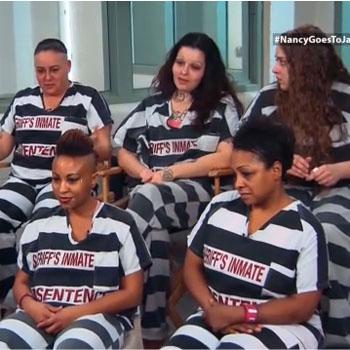 Jodi Arias was found guilty of first-degree murder of Travis Alexander and her days in the Estrella Jail are numbers as she prepares to being another sentencing phase but acid-tongued Nancy Grace went Behind Bars to find out what her fellow jail mates are like and she discovered a shocking similarity between them and Jodi and RadarOnline.com has a sneak peek of her upcoming jail house special.
During the five month trial sexually explicit photographs and recordings were submitted to show the hidden side of Jodi and Travis' relationship where she claimed he abused her but the jury didn't buy it and convicted her after hearing testimony where she described their sex life in detail.
Article continues below advertisement
HLN host Nancy Grace went Behind Bars with women who are imprisoned with Jodi and they revealed that they struggle with drug addiction and told Nancy why they used crystal meth.
"It was a sexual thing for me," one woman in jail house black and white stripes told Nancy about the reason she used the drug.
"It makes sex better."
Jodi and Travis didn't use drugs but testimony revealed that they introduced pop rocks and tootsie pops into their sexual activities.
Jodi was found guilty of "extreme cruelty" in the brutal slaying of Travis but the jury deadlocked over whether or not to give her the death penalty so she is awaiting word from the prosecutor if they're going to impanel another jury or let her spend life behind bars.
Part two of Nancy's explosive Behind Bars special airs Thursday on HLN at 8 ET sharp!