Jodi Arias Dismissed Juror # 5, 'I Didn't Do Anything Wrong'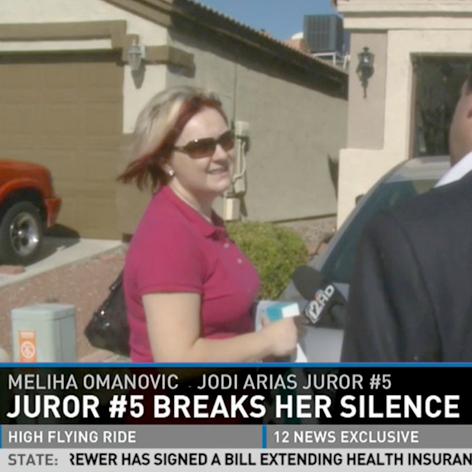 She was known only as Juror # 5 when she was dismissed from the Jodi Arias trial earlier this week. Now she's been revealed as Meliha Omanovic, an immigrant from Bosnia who lives in North Phoenix.
"I'm really eager to talk to you and give you my side of the story," Omanovic told 12News reporter Chris Williams outside her home, in her first TV interview.
She's decided, however, not to go into detail about why she thinks she was targeted by the defense. She's going to wait until the trial is over.
Article continues below advertisement
She insists, however that "I didn't do anything wrong."
After being dismissed from the jury, Omanovic showed up among the spectators in the courtroom on Thursday. Judge Sherry Stephens was obviously shocked and more than a little annoyed, warning other spectators they were not to speak to her.
She hasn't yet decided, Omanovic told Williams, if she'll be back in court when the murder trial resumes next week.
You can watch her interview here and stay with RadarOnline.com for all the latest on the Arias trial.