Jodi Arias' Murder Trial: 7 Craziest Courtroom Moments Revealed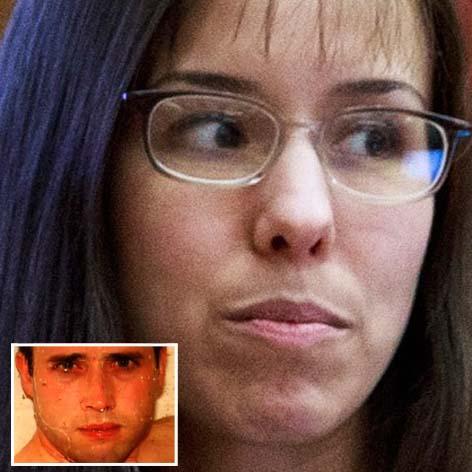 Jodi Arias' fate is hanging in the balance as jurors decide whether to convict her of brutally murdering her boyfriend.
The gripping four months-long trial trial has captured the nation with it's harrowing allegations and often bizarre testimony.
Now as jurors deliberate the 32-year-old's guilt or innocence in the murder of Travis Alexander - who Arias says she stabbed 27 times, shot in the head and slit his throat in self defense - RadarOnline.com is looking back at some of the craziest moments from inside the Maricopa County Courtroom in Arizona.
Article continues below advertisement
18 Days of Questioning:
Arias' ever changing account of the night Alexander died led to so many questions - 230 to be exact - from jurors that she ended up on the stand for a whopping 18 days.
Disney Interrogation:
Disney's Snow White got caught up in the trial when prosecutor Juan Martinez attempted to discredit defense expert Alyce LaViolette, who claimed Arias was a victim of domestic abuse. Martinez pointed out that LaViolette had given a presentation in 2012 that found the cartoon character to be a battered woman. This he claimed showed the expert could find abuse in situations she knew very little about, including 'myths.'
Juror Dismissal:
When juror No. 5 was dismissed from court proceedings for misconduct it was strange in itself, however when she showed back up to watch the trial as a spectator she caused quite the commotion both inside and outside the court.
Twitter Taunts:
Being stuck behind bars or on the stand didn't stop Arias from taunting prosecutors. Despite fighting for her life - if found guilty of first degree murder she could face the death penalty - she found a friend to keep her Twitter account up-to-date. Donavan Bering spoke to Arias every night and took to the social networking site on her behalf even directing tweets to the prosecution. "Hmmm…Anger Management problems anyone?" she wrote after Martinez grilled Arias on the stand.
Article continues below advertisement
Linebacker Reenactment:
Prosector Martinez forced Arias to reenact her ex-boyfriend's death after she claimed he lunged at her "like a linebacker." After struggling to describe the alleged attack the attorney had the accused murderer stand up, move away from the witness box and act out the motion.
Attorney "Doesn't Like" Arias
In what was sure to be a kick in the teeth for Arias, her attorney admitted in closing arguments that even he didn't like his client. It's not about whether or not you like Jodi Arias," said Kirk Nurmi. "Nine days out of 10 I don't like Jodi Arias…But that doesn't matter."
Experts Answering Bizarre Questioning From Jurors:
Arizona is one of only a few states that allow jurors to submit their own written questions. One which raised eyebrows involved a bear and a bullet. "If a person suffered PDST from a bear attack while hiking, would you throw out their PDS test if they lied and said it was a tiger," one juror wanted to know from clinical psychology Janeen DeMarte.
You can watch several of these crazy moments in a video from our friends at AZCentral.com: