Take That! Jessica Simpson Flaunts Slim & Sexy Post-Baby Body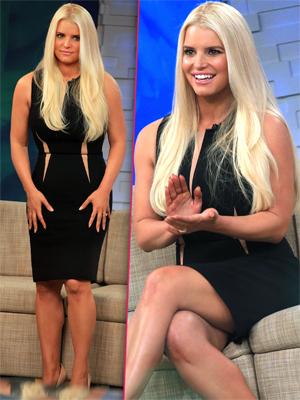 Jessica Simpson silenced her weight critics when she dropped by Good Morning America to show off her amazing, svelte post-baby body.
During the interview, the 33-year-old mom of two revealed how the Weight Watchers program helped her to shed those pregnancy pounds--twice!
"I believe in it with all of my heart," she told GMA anchor Lara Spencer. "It's a lifestyle. I've tried so many different diets, and you can only stick to something for so long. I feel like with Weight Watchers, it just becomes a part of who you are."
Article continues below advertisement
Simpson admitted during her first pregnancy with daughter Maxwell, (now 20 months old), she "didn't care" about weight gain.
"I just let myself have whatever I wanted!" she said.
But when she was pregnant with her second child Ace (now 6 months old), she wasn't "as relaxed in my eating."
"I had already been on Weight Watchers, and I had already lost over 50 pounds," she said. "I was just already in a healthier regimen, so I kept walking and staying active—and Maxwell started walking!"
Simpson also dished about her relationship with fiancé Eric Johnson, whom she hopes to marry sometime in 2014.
"We don't have an actual wedding date, but we do know that we want it to be this year. We need to get married!"
"I already feel like we're an old married couple already," she quipped. "Like, if he wanted to run, he could've run when I was hormonal and pregnant."