Told Ya! Jessica Simpson Confirms Radar's Exclusive She's Having A Boy!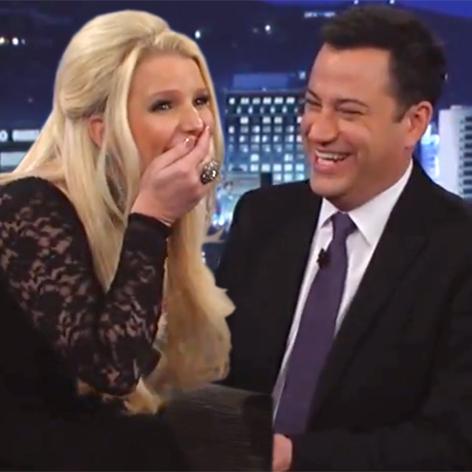 We told ya so.
Just as we reported all the way back on Jan. 18, Jessica Simpson is having a boy!
After playing coy about it, Jessica slipped on the gender of her baby on Jimmy Kimmel Wednesday, revealing that she and fiance Eric Johnson will be giving her now-10-month-old daughter Maxwell a little brother.
When Jimmy made reference to the baby, Jessica called her second pregnancy "totally different," marked by awful bouts of vomiting.
Article continues below advertisement
"The crazy thing is I never knew a wiener could make me nauseous," the 32-year-old said in her typical crass-yet-charming way. "Well I guess I just told the world that I'm having a boy!
"I can't believe I just did that, that was not planned … I just did it so crude, I feel awful!"
She later tweeted, "Accidental announcement tonight on @jimmykimmel."
Watch the video on RadarOnline.com
youtube
Asked by Kimmel if she was going to exchange vows with Johnson in the near future, Simpson said she keeps "planning on getting married, but I keep getting knocked up!
"Maybe I should go back to when I was younger," she said. "I was a virgin before I was married, so maybe I should just completely reverse and just stop having sex all together until Eric and I actually say, 'I do.'"
Jessica's best friend Cacee Cobb, who's married to actor Donald Faison, is also expecting, though the Dukes of Hazzard star said while it's a mere coincidence, they're planning accordingly.
"Well it's definitely something we would love to have happened -- we want our babies to be best friends, 'cause we are. So now we're going to force them to go to school together, force them to eat sandwiches together.'
"Hopefully it works out, we would be heartbroken" if they didn't get along, she said.
Jessica can be seen on the second season of Fashion Star, which premieres Friday on NBC at 8/7c.