Jennifer Lawrence Admits She's 'A Little Drunk' On Jimmy Kimmel, Says 'My Breasts Are Uneven!'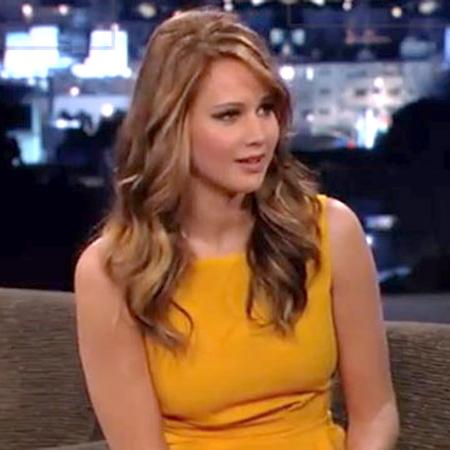 Jennifer Lawrence -- admittedly "a little sick and a little drunk" on Thursday's edition of Jimmy Kimmel Live -- said that during a recent doctor's office visit, she was preoccupied that her breasts were uneven, and we've got all the details for you right here on RadarOnline.com.
"I just went to the doctor today, I got a chest X-ray of my lungs and discovered that my breasts are uneven," said the 22-year-old Louisville, Kentucky native, who just won a SAG Award for her Silver Linings Playbook performance.
Article continues below advertisement
Lawrence said, "I was like standing there with these doctors and they're like looking at my lungs and I just couldn't -- it felt like an elephant in the room -- and I was like, 'Are my breasts uneven?'
"And they were just kind of, like, stifled and uncomfortable, obviously. So I kept thinking, 'Well, I'm gonna dig myself out of this hole by bringing it up again.'"
The Oscar-nominated actress continued, "So he was like, 'Alright, our radiologist will get back to you about your lungs.' And I was like, 'And my breasts.'"
She joked about X-rays: "I hope I'm never seen in that light."
Watch the video on RadarOnline.com
Lawrence, who is getting over a bout of walking pneumonia, was perhaps buoyed by a few tequila shots Kimmel's producers gave her prior to the appearance.
youtube