Death Trap! ATV Company Sued For Fatal Injuries Before Jamie Lynn Daughter's Accident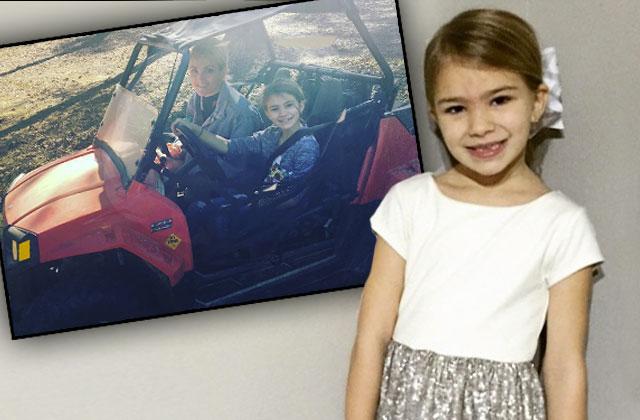 Jamie Lynn Spears' daughter Maddie isn't the first driver to be severely injured by a Polaris ATV. In a series of lawsuits exclusively obtained by RadarOnline.com, crash victims accuse the off-roading vehicles of flipping over, catching fire and trapping passengers.
Bryan Adkins Hart filed a lawsuit on September 23, 2016 against Polaris Industries when his 2014 Polaris Ranger RZR XP 900 rolled over.
Article continues below advertisement
READ THE DISTURBING COURT DOCS!
"Mr. Hart was driving the subject vehicle at a reasonable, foreseeable speed on a straight, approximately 6.5-foot wide trail," the report read. "Both were properly seat belted and wearing full-face helmets at the time of the subject incident."
When the ATV hit two rises the Polaris "came up off the ground."
"Mr. Hart accelerated to allow the front of the Polaris to drive forward and the back to return to the ground," the complaint read. "Due to the design of the Polaris, however, this foreseeable, basic maneuver led to a loss of pitch stability, with the rear of the Polaris not coming back to the ground but instead continuing to pitch forward such that the Polaris began an end-over-end roll."
The Plaintiff claims the RZR was designed, marketed and sold with a "rollover protection system." With metal portions of the structure coming down forcefully on his helmet, his head and neck were pinned. He suffered a fractured spine.
Like Maddie, Hart was pinned and unable to get out until medical services arrived.
In a second complaint filed on April 21, 2015, a 11-year-old Keylee Latham was severely burned when she rode as a passenger of a 2010 Polaris Ranger 800 Crew.
Article continues below advertisement
"The Polaris Ranger took a left turn from a gravel road and subsequently rolled over onto its right side, trapping Keylee underneath the vehicle," the report read. "Shortly thereafter, leaking gasoline caught fire under and around the rear seat of the Polaris Ranger and also on the ground where Keylee was pinned and unable to move."
A neighbor who was able to push the burning vehicle off her body rescued the young girl. Over 60% of her body was covered in third and fourth degree burns. Like Maddie, she was airlifted to a hospital where she was treated for a total of six months. She underwent over 20 surgeries.
"The surgeries performed to date include amputations and many partial grafts of her burned skin," the disturbing complaint read. "Doctors were forced to amputate Keylee's lower right leg in its entirety… Her doctors were forced to amputate her left foot."
In a class action lawsuit filed on October 24, 2016, Polaris was sued for having "several recall notices for its RZR and ROV brand off-road vehicles due to file hazards."\
Article continues below advertisement
According to the complaint, roughly 4,300 vehicles were subject to a fire hazard. A 15-year-old driver was allegedly killed after his ATV burst into flames.
On May 25, 2013, Peter Phaneuf was severely burned by a 2007 Polaris Sportsman 800 EFI All-Terrain Vehicle when the ATV rolled and landed on its side, trapping the driver.
"The Polaris ATV continued to run for approximately ninety minutes, maintaining the exhaust system at a constant temperature of approximately 468 degrees Fahrenheit," the June 7, 2016 complaint read. "Peter was wearing insulated boots and his right foot was in contact with the Polaris ATV in the vicinity of its scalding exhaust system."
He was rescued by friends and was rushed to the hospital. He required six surgeries and is permanently disfigured due to the burns. He claims it could've been avoided had the ATV had a tilt switch.
All of the cases are ongoing.
Britney Spears' niece was allegedly driving a Polaris 170 ATV when she overcorrected to avoid running over a drainage ditch. The ATV entered a pond, forcing the vehicle and 8-year-old to be "instantly submerged in the water."
"The child was trapped and secured by the seatbelt and the ATV's safely netting," a statement from the Tangipahoa Parish Sheriff Daniel Edwards read.
As Radar reported, the Polaris website states the model the 8-year-old was driving "is intended for operators age 10 and older."
She remains in stable but critical condition.
We pay for juicy info! Do you have a story for RadarOnline.com? Email us at tips@radaronline.com, or call us at (866) ON-RADAR (667-2327) any time, day or night.