Bound To Go Viral: James Franco & Seth Rogen Re-Do Kimye's Sexy New Video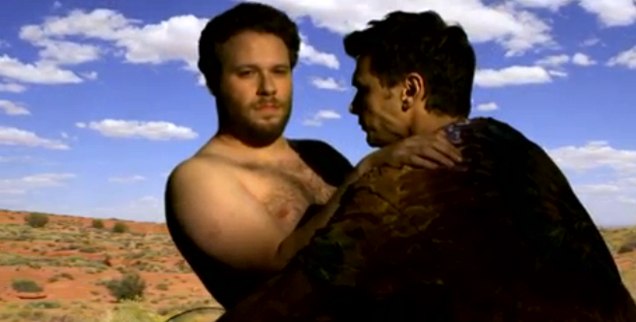 Need a chuckle on your Monday morning?
Leave it to James Franco and Seth Rogen to bring the funnies.
The Pineapple Express stars parodied Kanye West and Kim Kardashian's steamy video for the song "Bound 2" without changing much -- anything, really.
The clip begins with text reading, "While on the set of their movie, The Interview, James Franco & Seth Rogen felt inspired to recreate their favorite new video. Shot. For. Shot."
Article continues below advertisement
Watch the video on RadarOnline.com
In it, Franco plays the role of West, and Rogen takes on the Kim part, complete with romantic embraces, and pretentious preening.