Jacqueline Laurita's Autistic Son Nicholas Says, 'I Love You'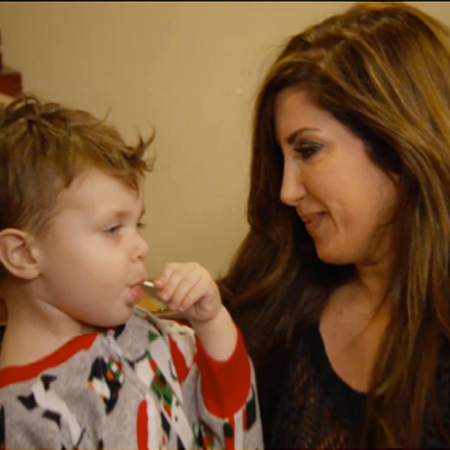 Jacqueline Laurita and her autistic son, Nicholas, shared a major milestone on The Real Housewives of New Jersey on Sunday night, as the troubled boy was able to say, "I love you."
As a surprise for his wife, Chris Laurita had worked with a therapist to teach little Nick how to say the words of love to his mommy, which he did, inspiring Jacqueline to kiss her son over and over and break into tears. She hugged her husband and said of Nicholas, "When he said it, it told me he can say so much more. It gave me hope."
Article continues below advertisement
As RHONJ fans know and were reminded on Sunday night, Nick is Jacqueline's and Chris's miracle baby, as, according to her husband, she'd had five miscarriages before that, and doctors had advised her to terminate her pregnancy with Nicholas as well. But the couple refused. However, after she gave birth to Nick, he was later diagnosed with autism.
On the episode, Jacqueline was asked to do a video blog for Parenting magazine about Nicholas' disorder. Jacqueline revealed to a Parenting editor, breaking into tears, that she knew Nicholas was in a bad way when "He stopped saying 'I love you'."
Meanwhile, Chris told Joe Gorga, "I'm confident we're going to recover him. We'll fight tooth and nail to get everything we can for Nick." Jacqueline admitted last year she was very depressed but Chris said Nick was going to continue to get better every day. And he later proved it by saying "I love you" to his mommy!
Meanwhile, as RadarOnline had previously previewed, the RHONJ episode also showed Teresa Giudice and Caroline Manzo having a summit to hash out her relationship with her brother Joe Gorga and his wife Melissa.
Article continues below advertisement
In an uncomfortable lunch faceoff at a private room of a New Jersey restaurant, Caroline told Teresa that her brother had asked her to intervene and try to mediate their family feud.
"He's really scraping the bottom of the barrel. He needs to be a man," Teresa snapped to the housewife she has said is no friend of hers! But determined Caroline, who doesn't speak to her own sister, Dina, stressed she had been in Joe's shoes and he was really hurting. Teresa pointed out Caroline had no credibility because she wasn't right with her own sister. Still, Caroline wouldn't let Teresa off the hook and said, "My heart hurts for your family." Teresa confided, "My brother hurts me a lot." Caroline also confronted Teresa about her wrongly cutting fellow housewife Jacqueline out of her life even though she'd been a true friend. But Teresa, who is also feuding with Kathy Wakile, said it would be a "cold day in hell" if she ever sat down with Kathy because she called her dad a coward. At the end of their lunch, however, Caroline got Teresa back to the most important issue, that her beloved father, who received a pacemaker during the episode, wanted to see sister and brother reconciled. "You don't want that man to die and not see his kids together!" Caroline shouted. Softening, Teresa admitted, "I want to make things better." But she also wanted sister-in-law Melissa to admit she'd been a "f---ing bitch" and say she was sorry. Teresa said she would meet Melissa halfway, but pointed out she was going to break her own back if Melissa didn't bend, too. After the luncheon, Caroline said her brain hurt, and "it was a prize fight" but she had accomplished something.
MORE ON:
The Real Housewives of New Jersey
But had she? What was clear was that Teresa's husband Joe Giudice was no help at all, telling his wife before she went to see Caroline that the other housewife should "apologizes for acting like such a witch," and suggested he put a string of garlic around Teresa's neck before their lunch!
Also on the Sunday episode, Joe and Melissa Gorga were trying desperately to sell their New Jersey mansion, which had been on the market for six months at $3.8 million, a price he fumed was way too low. But Joe was hell bent on selling because his wife doesn't want to live close to Teresa and her family. "It's "too close for comfort," Melissa said. "I need to get out of here." During an open house, a potential buyer, a celebrity stylist who has a son with P. Diddy, toured the home and laughed because the bathroom faucet didn't work and the wash basin was falling apart. The real estate agent told the outraged Gorgas that their house wasn't worth the $3.8 million!
Article continues below advertisement
While the episode was full of tears and jeers, Kathy Wakile's lesbian sister, Rosie, provided some comic relief as she played poker with the guys--but also dished about her sex life! Rosie, who went berserk during the RHONJ reunion show last season, told the men she's a boob girl who has never had sex with a man. "You should try," Joe Gorga insensitively said.
Watch the video on RadarOnline.com
"F---that!" Kathy's candid sister said. "That woman should just go with a guy, then, that's that."