Jacqueline Laurita's Husband Can't Stop Laughing About Her Turning To Teresa Giudice For Advice On Public Speaking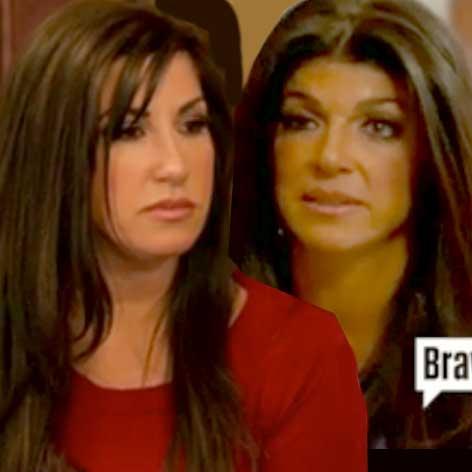 Everyone knows how big-mouthed Teresa Giudice is on The Real Housewives of New Jersey, so it makes perfect sense that in the upcoming episode, Jacqueline Laurita goes to Teresa for help preparing for a speech she has to deliver about Autism.
"I want to be a really good advocate for Autism, but I'm so scared of public speaking," she tells Teresa. "I know Chris Manzo wants me to speak at this BLK event, but I'm terrified to talk in front of people."
Article continues below advertisement
Teresa agrees with Jacqueline that "public speaking is not easy."
"In the past, anytime I've tried to get up to speak in front of people, I just break out in hives," Jacqueline continues to explain to the cameras. "But if I could face my fear of getting close to Teresa, I can get through it."
Now public speaking expert Teresa offers her services to help guide Jacqueline in coming up with the perfect lines.
"Did you write a speech?" Teresa asks Jacqueline. "Do you want to do it with me right now?"
Jacqueline's husband Chris finds it completely ridiculous that his wife has enlisted Teresa to help with her preparations.
"The fact that Jacqueline is going to Teresa for advice about public speaking, I'm a little surprised, but I appreciate Teresa trying to help Jacqueline," he says before he starts cracking up laughing. "It's so funny."