Redneck Kobayashi! Honey Boo Boo's Sister Pumpkin Takes On Pigzilla In BBQ Eating Contest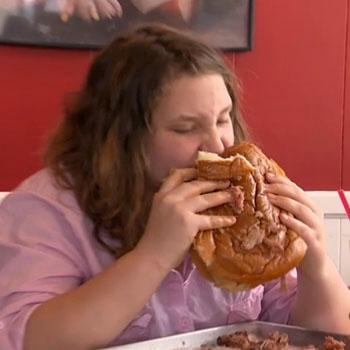 What is more fun than an hot dog eating contest? Honey Boo Boo's sister Pumpkin taking on the great pigzilla in a sandwich contest for the history books!
In a hilarious sneak peek of Here Comes Honey Boo Boo obtained by RadarOnline.com Mama June Shannon describes how her daughter Pumpkin is going to eat a 4 pound sandwich - 3 pounds of meat and a 1 pound bun.
"Pigzilla has been challenged 55 times and it was only defeated once by a professional eater," Mama June says, but she has faith in her daughter.
Article continues below advertisement
"I think it's going to be defeated twice because I have my own professional eater on my hands."
So the family heads to the restaurant for Pumpkin to take the challenge, but she's not alone – Sugar Bear is joining in on the pigging out.
"I came up with this brilliant idea to challenge Pumpkin with Pigzilla to keep her motivated to win," he says on the sly.
"You could be the Redneck Kobayahsi," June says, comparing her daughter to the great hot dog eating champion.
Check out the funny video where the family is helping Pumpkin get ready for the great Pigzilla challenge.
Here Comes Honey Boo Boo airs Wednesdays at 9 PM ET/PT on TLC.