They're Baaaack! Honey Boo Boo, Mama June & Their Secret Weapon Cup-A-Fart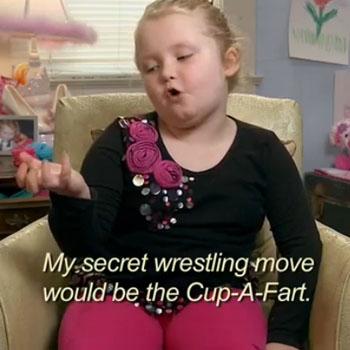 Did you miss Honey Boo Boo, her Mama June and almost forget how to redneckognize?
Well America's favorite southern family is back in a brand new season of Here Comes Honey Boo Boo and RadarOnline.com has a sneak peek at their brand new secret weapon – Cup-A-Fart that is guaranteed to take down any family member or even a professional wrestler!
Alana Thompson and her sisters, mom and dad Sugar Bear are gearing up for another season where they just live their lives in Georgia with their trademark wit and cringe worthy revelations.
Article continues below advertisement
Pumpkin tries out the move on Mama June and Honey Boo Boo in bed one morning at home so they decide to join Sugar Bear where he works doing security for local wrestling matches.
"That's all my family does wrestlin' and dog piles," Honey Boo Boo says, and backstage with the wrestlers she tells them her secret weapon.
"Cup-A-Fart. You fart in your hand and throw it at your enemies face."
When the wrestlers ask her to demonstrate Sugar Bear steps in and loudly stinks up the room.
MORE ON:
Here Comes Honey Boo Boo
"That's what you call a Monster Cup-A-Fart," he declares. "I cleared the room."
Mama June is always dreaming big and she has plans to go pro with the move.
"We're going to revolutionize the wrestling world with Cup-A-Fart. Wrestlers are going to be passing out everywhere."
Here Comes Honey Boo Boo season two premieres Wednesday, July 17 at 9 PM ET/PT on TLC.