Who Says Christmas Comes But Once A Year? Enjoy The Holidays Again, Honey Boo Boo And Family (Outrageous) Style!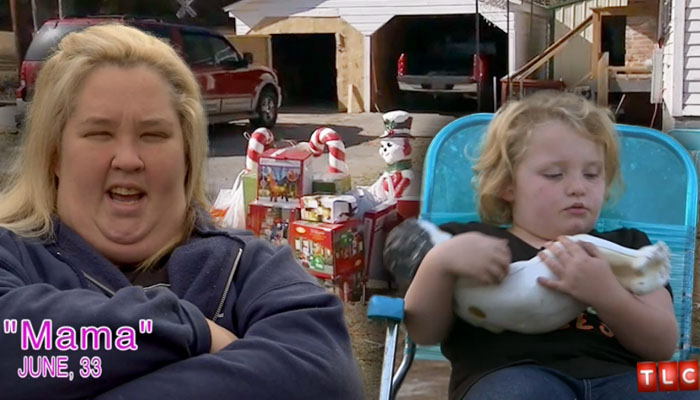 Here Comes Honey Boo Boo right down Santa Claus Lane!
Beloved Honey Boo Boo , her larger than life mama June Shannon , and the rest of their self-professed "redneck family" are caught on camera prepping for Christmas in a TLC special taped back in December -- not surprisingly, the results are hilarious, to say the least -- and if you don't believe us you can watch a sneak peek right here on RadarOnline.com.
Article continues below advertisement
From farting Sugar Bear to Alana "Honey Boo Boo" Thompson sneezing on the little baby Jesus, it's Christmas time for reality TV's favorite family -- and they may not have a lot, but they still manage to give back, providing a lot of entertainment value while they're at it!
June is heading up the annual Holidays charity drive -- and as she enters into the family garage it looks like the episode is about to rapidly start morphing into another hit TLC show, Hoarding: Buried Alive , as mama Shannon just can't bring herself to part with any of the junk piled up around her, despite her daughters' pleas to get rid of it!
At one point it looks the family's big celebration could be heading for disaster.....
However, with her June Shanon trademark common sense she soon brings everything together -- with a final "Ta-down!"
Tune into TLC on Sunday, February 10 at 8 pm ET/PT to watch the full, outrageous episode of A Very Boo Christmas
And, in the meantime, you can catch a sneak peek right here on RadarOnline.com.