Watch Mama June Get Drunk & Wild At Her Bachelorette Party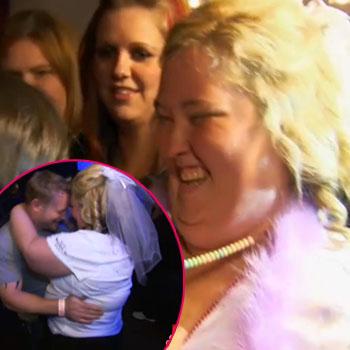 Honey Boo Boo's Mama June Shannon is getting ready for the redneck wedding of the century by getting drunk and wild at her bachelorette party that puts Sugar Bear's bachelor party to shame.
In this sneak peek of the upcoming episode of Here Comes Honey Boo Boo, Mama June, 33, heads to Wild Bill's in Atlanta for a crazy night out.
"On the limo ride up here I got a little buzzed, I feel kinda good," Alana Thompson's mother says.
Article continues below advertisement
"I'm ready to get the rest of my drink on!" and that she does, downing the shots in the bar with her girlfriends.
Mama June gives Miley Cyrus a run for her money in the sexy dancing department, saying: "I mean, once I get my body in motion, I mean, there's pretty much like, no, like, stopping."
Meanwhile, Sugar Bear is having a raccoon BBQ where his buddies give him the best advice ever about marriage – make sure she is happy.
Check out Mama June getting her wild on at her bachelorette party and tune into Here Comes Honey Boo Boo on TLC at 9pmET/PT.