Heidi Klum Channels 'The Graduate's' Mrs. Robinson In Sexy New Carl's Jr. Commercial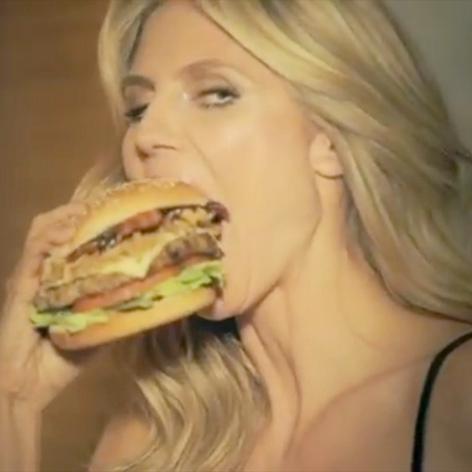 Fast food might not factor into Heidi Klum's supermodel diet but that isn't stopping her from cashing in as the latest face of Carl's Jr.'s new Jim Beam Bourbon Burger, and RadarOnline.com has the behind the scenes footage of her sexy advert.
Wearing a a very revealing black dress the German star seductively devours an over-sized burger in front of a bewildered young man in the TV spot which mimics a scene from 1970's film, The Graduate.
Article continues below advertisement
"What I love about the commercials is that they are always super sexy but they always have a lot of humor to them," said Klum who was picked for the ad which showcases the new Jim Beam Bourbon Burger. "My favorite part is always when this beautiful girl bites into this gigantic burger and it has that sound effect.
"What I like about this commercial is that it's a very very famous scene from 'The Graduate' and basically I'm playing Mrs. Robinson and I'm seducing this very cute boy with my burger."
Despite looking incredible slim and trim the mom-of-four insists she indulges in junk food all the time.
"I do eat a lot of burgers, I also eat a lot of fries.," she said.
Klum is following in the footsteps of a host of other stars who have sexed it up for a Carl's Jr. commercial including Paris Hilton, Kim Kardashian and Kate Upton.
youtube