Dubrow Too High Brow In Hawaii! Heather Ticks Off Vicki Gunvalson and Tamra Judge With Her Know-It-All Ways On 'RHOC' Season Premiere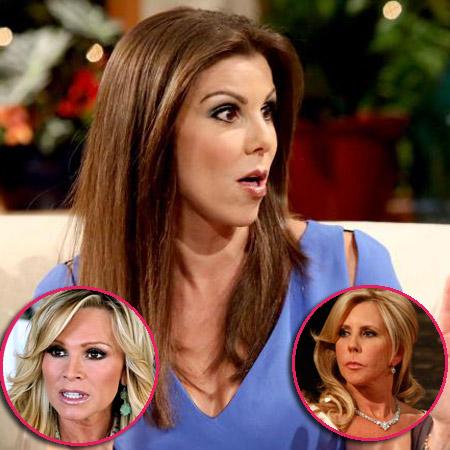 Heather Dubrow was one of just three The Real Housewives of Orange County stars left standing after Gretchen Rossi and Alexis Bellino were fired and Lydia McLaughlin quit the show after last season.
But on the show's ninth season premiere on Monday night, Dubrow offended her co-stars Vicki Gunvalson and Tamra Judge with her snooty know-it-all ways!
It all started when actress Dubrow, 45, got a small part on the TV show Hawaii Five-O, and Gunvalson and Judge decided to visit her in Honolulu.
Article continues below advertisement
Dubrow had misgivings about the idea because she always felt like a third wheel with the two blondes. And she was right as Gunvalson, 52, and Judge, 46, called her "fancy pants" behind her back and conspired to "corrupt" the wealthy plastic surgeon's wife.
Dubrow turned up her nose at their idea of taking a surfing lesson, and only reluctantly went along specifying she'd only do it in knee-deep water. While Dubrow did surprisingly well surfing, Gunvalson could barely stand up on the board and struck her knee on a rock.
Later, they rented a jeep to view waterfalls in Hawaii and Dubrow criticized Gunvalson's driving. Judge told the cameras that Dubrow didn't have the level of fun that she and Gunvalson had together.
Watch the video on RadarOnline.com
Meanwhile, Gunvalson sniffed about Dubrow, "She has to be right on absolutely everything and it gets exhausting."
Although the blonde beauties had planned to get Dubrow drunk and dancing on tables in Hawaii, it didn't work out that way.
Article continues below advertisement
Instead, the episode ended with Dubrow arguing with Barney about what temperature wines should be kept at while Gunvalson rolled her eyes.
"This is useless conversation," Gunvalson snapped to the cameras.
Judge added, "I don't know why Heather has to be such a know-it-all. Why does she always feel the need to make everybody else feel stupid?"
Viewers also saw Dubrow and her husband Terry, who sold their previous home for more than $16 million, making plans with their architect for an even bigger spread that would feature a mind-boggling 13 bathrooms, an infinity pool, a beauty salon, and a hidden room behind a bookcase!
Also on Monday's episode, it was clear that Gunvalson still hasn't quit her troubled relationship with disgraced boyfriend, Brooks Ayers.
Faked Scenes, Lies & Payoffs – The Ultimate Guide To Reality TV Shows
Although Ayers broke up with Gunvalson on the last RHOOC reunion show, the insurance company owner told the cameras, "Brooks has wanted me to forgive him."
Still, she said she doesn't know where they're headed.
Article continues below advertisement
In Hawaii, Dubrow and Judge also wondered what was going on with the couple.
"It makes me sad Vicki won't confide in me," Judge sighed. "We all know they're still together."
And as the episode ended, Judge began to talk to Gunvalson about how her divorce with husband Donn was final — and asked, "Where does Brooks fit into all this?"
But viewers will have to wait until next week to hear Gunvalson's answer!
Earlier, the insurance company titan was in a scene with daughter Brianna, who is pregnant with her second child with her husband Ryan. Gunvalson said their relationship was great unless they talked about Ayers, whom Brianna hates with a passion. But Gunvalson was sad that Ryan, who is in the military, told Brianna they had orders to move to Oklahoma.
"It's a forgotten state! I don't even know what food they eat in Oklahoma," Gunvalson told the cameras.
Article continues below advertisement
Meanwhile, Gretchen Rossi is gone but not forgotten, as Judge and Dubrow were shown discussing the former housewife and her fiancé, Slade Smiley. Tamra, who married Eddie Judge, in a Bravo special, said she hadn't even received a wedding gift from her and Smiley. And when Rossi gave her plastic luggage for her wedding shower, Judge shuddered.
"Gretchen is a narcissistic, compulsive liar that is basically dead to me," Judge told Bravo's cameras.
On Monday's episode, viewers were also introduced to new RHOOC cast member Shannon Beador, her husband David and their three daughters.
Beador shared the same architect with Dubrow and she toured Beador's incredible home, which included a secret door behind a bookcase and a basketball court! Despite the opulence, Beador claimed her family was low key.
Watch the video on RadarOnline.com
Beador said she was an environmentalist who had no wireless internet in her house and didn't approve of cell phones: "You're radiating your brain. It's not good for you."
She shot down her 12-year-old daughter's on-camera request for a cell phone.
Dubrow laughed to viewers about the contradictions in Beador's life, "She probably gets her hair colored. Is that organic?"
Producers also showed Beador going to one of her thrice-weekly visits to a holistic acupuncturist.
On next week's episode, RHOOC will unveil another new housewife, Lizzie Rovsek, who, a preview revealed, won't be welcomed by some of the regulars!