Exclusive
Wild Child Gypsy Star Confronts Sister Over Alcohol Problem -- Drinks Until She Pukes!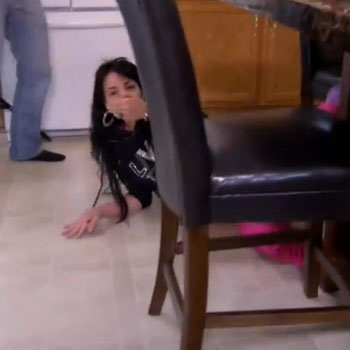 Wild child Mellie Stanley, who is best known for her stripping and violent temper, goes overboard in the upcoming episode of Gypsy Sisters and is so out of control that she falls on the floor and vomits!
In this exclusive sneak peek of the outrageous reality show obtained by RadarOnline.com, Mellie is confronted by her sister Nettie about her drinking problem and ends up puking on the floor.
She is apologizing to Nettie for ruining a night out, where she stripped off her pants and her shirt in a limousine, but she refuses to stop boozing.
Article continues below advertisement
"Don't you think that's way out of control?" Nettie asks her, and all Mellie has to say is "NO."
She then admits to the camera that she has a reason for drinking until she blacks out, and it has to do with her boyfriend Robbie.
"Deep down I'm trying to push Robbie away with my drinking."
Mellie's arugument with Nettie escalates and ends when she screams about the house smelling and falls to the ground and throws up.
Gypsy Sisters airs on TLC Sundays at 9/8c.