Gretchen Rossi Proposes, Her Boyfriend Slade Smiley Dubs Vicki Gunvalson 'Tupperware Face'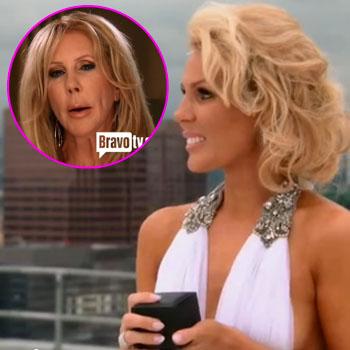 Get ready for some major drama on the Real Housewives of Orange County.
The next episode showcases some life changing moments, like Gretchen Rossi proposing to boyfriend Slade Smiley who then dubs Vicki Gunvalson 'Tupperware Face' on his radio show — and RadarOnline.com has your sneak peek.
"You think he's the right man for the rest of my life, forever and ever and ever?" Gretchen asks her mother before having Slade flown in on a chopper to meet her on a rooftop.
Article continues below advertisement
"We have gone through hell and high-water to get to where we're at.
Dressed like Marilyn Monroe, Gretchen presents Slade with a wedding band and asking him to marry her.
Meanwhile, Vicki hears Slade on the radio saying, "There's a person who's not really well liked. Check out 'Tupperware Face.'"
"That's like to me, the devil," Vicki says.
"Slade's crossed a line and I'm not letting him get away with it this time."
Tune in on Bravo on Monday night to find out if Vicki confronts Slade about his snide remarks.