Mumford & Sons, Black Keys, fun., Gotye Among Big Winners At 2013 Grammy Awards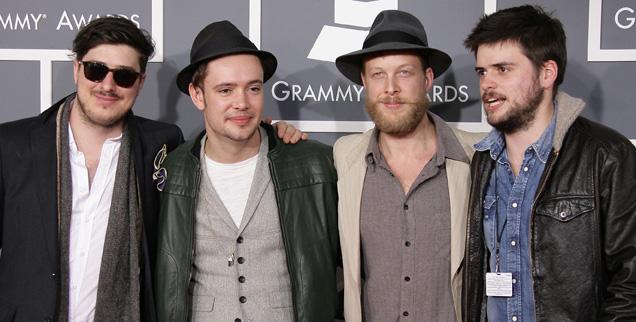 Article continues below advertisement
Ohio rock band The Black Keys snared the trophies for best rock album, song and performance, while band member Dan Auerbach took home non-classical producer of the year.
"Thank you to our families and everybody in Akron, Ohio, and everybody in Nashville," drummer Patrick Carney said.
Gotye nabbed the record of the year for Somebody That I Used to Know, one of his three awards on the occasion.
"I wouldn't mind if I don't have another song that has a moment like this," the Australian singer-songwriter said of his hit. "I have written maybe better songs and hopefully will write better songs."
The band fun. took home the honors for best new artist, as well as the song of the year for We Are Young (which was prominently featured in a Taco Bell Super Bowl ad).
"I don't know what I was thinking writing the chorus of this song," said the New York-based band's lead singer, Nate Ruess. "This is HD (television), everyone can see our faces, and we are not very young. We have been doing this for 12 years.
Article continues below advertisement
"Radio and mainstream just kind of picked up on us and it feels good for us after 12 years of people kind of just ignoring you and always feeling like you're kind of the bridesmaid."
Other notable winners on the evening included Paul McCartney, Jay-Z and Kanye West, Frank Ocean, DJ Skrillex and last year's runaway winner, Adele.
"I've been up since 6 a.m. so I'm quite tired. But it's nice, I haven't been as stressed out," the now-mom Adele said. "You kind of have to prioritize what you stress about and worry about when you have a child."