Gordon Ramsay Accused Of Wrecking Restaurant, Owner Charges: 'It Was Truly A Kitchen Nightmare For Me!'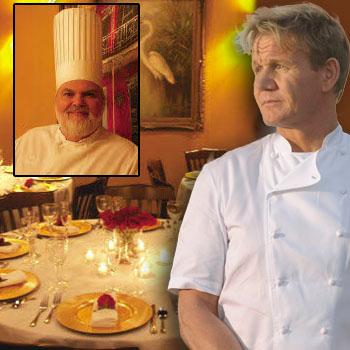 Gordon Ramsay has been accused of destroying a man's business after it featured in an episode of the Brit's hit show Kitchen Nightmares.
The drama packed show, which airs on Fox, follows the foul mouthed chef as he attempts to overhaul floundering restaurants by critiquing the owner, kitchen and waiting staff and giving the eateries a menu and decor makeover. But one angry restauranteur tells the new issue of the National Enquirer that Ramsay almost wrecked his business instead of turning it around.
Article continues below advertisement
"It was truly a kitchen nightmare for me," John Chapman of Chappy's New Orlean's-style Cajun restaurant fumes to the Enquirer in an exclusive interview.
"Gordon Ramsay destroyed by business. It was a confrontation from the get-go."
A spokesperson for Kitchen Nightmares told RadarOnline.com, "The mission of Kitchen Nightmares is to help struggling restaurants succeed. Gordon Ramsay is the owner of 27 restaurants and holds 11 Michelin stars. He is eminently qualified to offer solutions and tools to help turn failing restaurants around. In every case, restaurant owners choose to participate in Kitchen Nightmares to receive the benefit of Gordon Ramsay's expertise.
"In the case of Chappy's, a fledgling restaurant in Nashville, Gordon suggested extensive revisions to the menu, updated the décor and offered his expertise and advice to the management and staff. It was their decision -- as it is with all participating restaurants on the show -- whether to take his advice. Mr. Ramsay and the show producers always wish the participating restaurant owners much success."
For the full explosive interview and all the details on why Chapman believes Ramsay almost wrecked his restaurant, pick up the new issue of the National Enquirer -- on newsstands Thursday.
youtube