Exclusive
Grown Up Toddlers In Tiaras, Good Buy Girls Dish On New TLC Show – Wardrobe Malfunctions With Lots Of Wine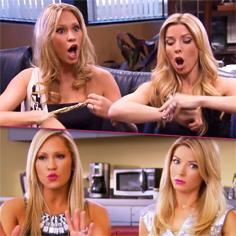 Brook Roberts and Tara Gray are grown up Toddlers in Tiaras and the dynamic duo are starring in a new reality show that goes behind the scenes of DSN network to reveal what really happens in backstabbing, infighting world of television home shopping hosts, wardrobe malfunctions and all.
The dynamic duo, Team BT as they call themselves, are former pageant girls who ditched their crowns to go on TV to convince people that they NEED that special diamond encrusted bra and they told RadarOnline.com exclusively why their show Good Buy Girls is going to be more shocking than any other show on TLC.
Article continues below advertisement
"I was wearing a blue dress with buttons up the front and I turned to the side and saw in the camera that my entire bra was showing on the left side, it was my boob out there for everyone to see," Brooke said about her accidental flash on live TV.
Tara is no different and pulled a Mariah Carey from GMA one time with her broken dress.
"My entire dress was unzipped in the back," Tara revealed. "Truly a home shopping show is the original reality show."
The women are going to expand what the network sells, and they said that all of the products are ones they really like - made in the USA, female created and only ones that they use too.
"We want to showcase powerful women. Right now Chelsea Handler, Gwyneth Paltrow and Jennifer Aniston are rocking the girl power and we want to help other women achieve their goals too."
They said that she show is going to push the boundaries of what people normally see on TV, but it will be fun and include bottles of wine.
"Maybe our show should be called Crowns and Cocktails," Tara joked.
Check out the sneak peek of Good Buy Girls and tune into the premiere episode on TLC Wenesday at 10/9c.