We've Got 'Em All! 7 Highlights & Lowlights From The Golden Globes -- On & Off Screen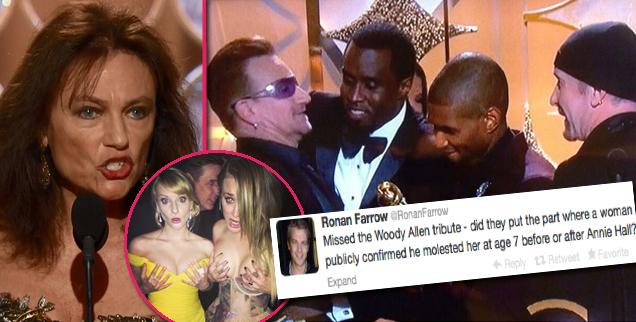 With award season in full swing, Sunday evening's 71st annual Golden Globes from Beverly Hills provided many highlights -- and lowlights -- of Hollywood in the new year. As the ceremony is one known for being a lot looser than the Oscars -- it has an open bar -- there were plenty of memorable moments. Check out our list of seven things from the proceedings, right here on RadarOnline.com.
1. Start Spreadin' The News
Article continues below advertisement
Woody Allen wasn't even on hand Sunday to receive his Cecil B. Demille lifetime achievement award, but his name was one of the prominent of the evening. As the director was being honored by Annie Hall co-star Diane Keaton, his estranged son Ronan Farrow called his father out in a tweet referencing the early 90s molestation accusations his mother Mia Farrow hit Allen with (in regards to her adopted daughter Dylan). Ronan tweeted, "Missed the Woody Allen tribute - did they put the part where a woman publicly confirmed he molested her at age 7 before or after Annie Hall?" Mia also expressed her disgust for her ex on Twitter, writing, "Time to grab some ice cream & switch over to 'Girls'" on HBO."
2. Doesn't Sound Like Fun
E! put its foot in its mouth during Sunday's pre-show broadcast with a "Fun Fact" graphic to inform viewers of nominee's Michael J. Fox's 1991 diagnosis with Parkinson's Disease. After a cavalcade of angry tweets regarding the insensitive classification, the network issued a statement saying, "We understand the serious nature of the disease and sincerely apologize."
3. Where's The Hook?
Article continues below advertisement
Actress Jacqueline Bisset had plenty of eyeballs rolling as she delivered a long-winded, rambling speech at Sunday's show as she claimed the prize for Best Supporting Actress in a TV Show, Miniseries or TV Movie for her work in the BBC's Dancing on the Edge. At one point the actress cursed, saying, "For those who have given me s***, like my mother always said, 'Go to hell and don't come back!'" Naturally, the speech made waves on Twitter, with many celebs reacting to the train wreck nature of her speech. Ellen DeGeneres wrote, "I helped write Jacqueline Bisset's speech. Did you like it?" Piers Morgan added, "Maddest acceptance speech in awards history. Take a bow, Ms Bisset. #GoldenGlobes."
Watch the video on RadarOnline.com
4. Thanks, But No Thanks
Diddy was plenty gregarious as a presenter at the show, chatting up Best Score winner Alex Ebert, but was soundly rebuffed by Bono when he went to embrace the rock icon after U2's victory for Best Original Song From A Motion Picture, for Mandela: Long Walk to Freedom's "Ordinary Love." The frontman was in a serious state of mind in paying tribute to the late Mandela, saying the win was a "very, very personal" one for him and his bandmates.
Article continues below advertisement
Watch the video on RadarOnline.com
5. Double — Make That Single — Entendre
The Big Bang Theory's Kaley Cuoco and Melissa Rauch kept the fun going with a racy Instagram pic in which they cupped their busts, with Cuoco writing: "Holding our golden globes at the golden globes :)"
6. Fire Marshall Bill's Burn
Jim Carrey, presenting on Sunday, sniped at accused plagiarist Shia LaBeouf, as he announced, "Dying is easy -- comedy is hard … I believe it was Shia LaBeouf who said that. So young, so wise." The dig at LaBeouf, a constant source of controversy who recently tweeted he was retiring from show biz, provoked smatterings of giggles from the crowd.
7. Wardrobe Malfunction Of Then Night Goes To …
Robin Penn couldn't keep contained at the Globes. The House of Cards beauty, 47, had an wardrobe malfunctions during Sunday's proceedings, at one point showing the TV crowd the sticky tape she fixed to her bust to keep herself in one piece in her slinky Reem Acra gown. The actress was claiming the honors for Best Actress in a TV Drama at the time of the embarrassing exposure.
Watch the video on RadarOnline.com