Gay Man Confronts 'Preacher' Spewing Hatred On NYC Subway, Fellow Riders Applaud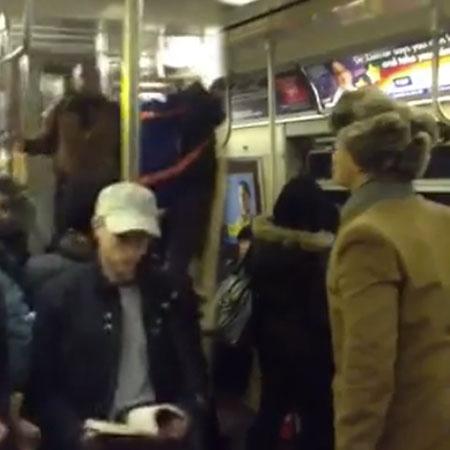 In a video quickly going viral, a gay man confronts a so-called "preacher" spewing hatred on a New York City subway, and RadarOnline.com has the amazing clip.
The street preacher launched his homophobic tirade on one of NYC's subway lines on Saturday, according to New York Mag's Daily Intelligencer.
During his rant before the crowded subway car, the preacher compared gay men to pedophiles and claimed "Michael Jackson died because he was gay," among other crazy things.
Article continues below advertisement
Usually when someone starts yelling on a subway, most people ignore it, fearing the lunatic could be dangerous – but not this rider.
"You teach hate," the man, wearing a khaki coat and an oversized fuzzy hat, shouted back, while never getting aggressive with the preacher. "You are false. You are a false prophet. Do not listen to this man. He's scared. He's full of hatred."
As the preacher continued his anti-gay rant, the man kept standing his ground and revealed that he is in fact gay, and yes, God still loves him. "I'm a man. And I'm a good man," he said. "And I'm a gay man and Jesus loves me! Jesus loves me!"
Watch the video on RadarOnline.com
The gay man's speech inspired his fellows riders to burst out into a round of applause.
As of Tuesday morning, more than 80,000 people had viewed the video since it was posted last Saturday.