Florida School Bus Driver Caught On Tape Texting While Driving - Twice!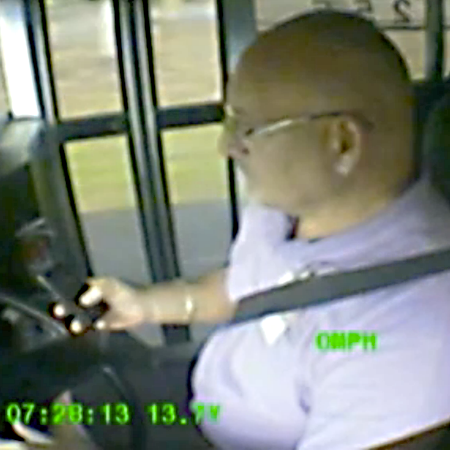 In a story certain to frighten any parent, a bus driver in Seminole County, Florida has been caught -- not once, but twice -- texting while driving, and now, he could be fired for it.
In one of the videos recorded from a camera mounted on the bus, driver Robert Stancheski appears to be checking his text messages while the bus was moving last December, according to WFTV Channel 9 in Orlando, Florida.
Article continues below advertisement
The video shows Stancheski looking down at his cell phone and repeatedly taking his eye off the road. And to make matter worse -- at one point, he actually takes both hands off the wheel!
Despite the fact that no students were onboard the bus in either of the incidents, parents at the elementary school that Stancheski works for were shocked by the allegations.
"I don't ever text while driving, and he shouldn't be doing it either," parent Alex Gonzalez told WFTV. "They have kids' lives in their hands."
Channel 9 discovered that Stancheski was suspended in April after district officials found yet another video of him again texting while behind the wheel.
That time, officials said he got into a minor accident only minutes after he put his cell phone down.
Stancheski has been with the district less than two years; he's been suspended without pay for the last three weeks and the school board will vote next week on whether to fire him or not.
He told Channel 9 on Thursday he's fighting to keep his job, but he refused to answer any further questions.