TV News Anchor Fired For Dropping 'F-Bomb' Mocked By David Letterman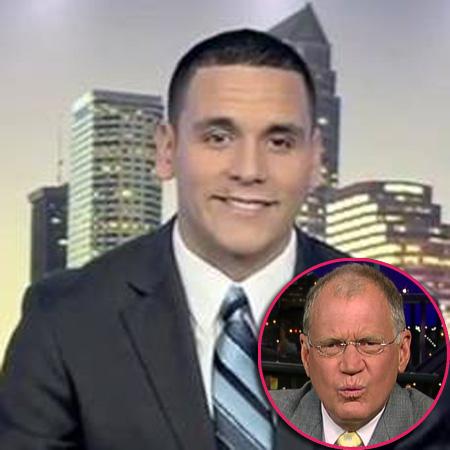 He may have lost his job after only his first time anchoring the evening news in Bismarck, North Dakota, but TV journalist A.J. Clemente has quickly gone from small town obscurity to national prominence – he even made David Letterman's Top Ten List Monday night. In addition, Clemente's Twitter page has gained thousands of followers (He's surpassed 8,500 as of early Tuesday morning), and he's being courted for interviews by media outlets around the world.
Article continues below advertisement
Letterman – a former weatherman in Indianapolis, Indiana – said he felt " sympathetic and empathetic" for Clemente and added, "it could have been me." Still, that didn't stop Letterman from mocking the already embarrassed anchorman.
Top Ten Signs Your First Day As A News Anchor Didn't Go Well
10. Well, you're wearing two neckties
9. Kept mispronouncing your own name
8. Weatherman tells you to expect an 80% chance of unemployment
7. Your tearful, on-air admission of falsifying your resume
6. Referring to Kim Jong Un as "Our great and powerful leader"
5. No one appreciated your Walter Conkite impression
4. Last story of the broadcast announced a job opening for a news anchor
3. Received congratulatory phone call from Sue Simmons (Video of former WNBC-TV anchor Sue Simmons: "What the f**k are you doing!?")
2. Kept dropping your pants and yelling "This just in!"
Article continues below advertisement
1. Aspired to be the next Ernie Anastos (Video of Ernie Anastos: "Keep f*ckin that chicken")
As RadarOnline.com previously reported, Clemente's first day of anchoring went so badly that he was promptly suspended and then fired after dropping the f-bomb on live television during KFYR-TV's 6pm newscast Sunday.
"F*cking sh*t," the rookie anchor was heard whispering into his microphone as an announcer introduced the newscast.
"Unfortunately KFYRTV has decided to let me go. Thank you to them and everyone in ND for the opportunity and everyone for the support," AJ tweeted to his followers after the NBC affiliate sacked him, while also apologizing to its viewers.
Despite the obvious career setback, Clemente isn't going to spend any time licking his wounds, he's already hustling for a new gig.