Farrah Abraham Justifies Waxing Daughter's Unibrow… Because She Was Sleeping At The Time!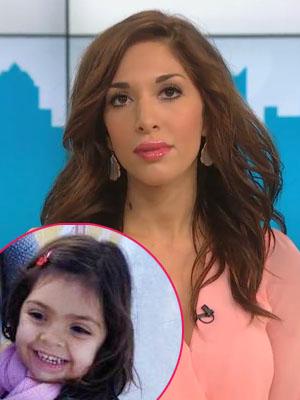 'Bethenny' audience members slammed XXX-Teen Mom Farrah Abraham for waxing her daughter's unibrow when she was a three-year-old on the talk show episode airing this Monday.
But the porn star got snarky herself in fighting back against her critics… and justified the unibrow experiment because her daughter was sleeping at the time!
When Bethenny Frankel fielded questions for Abraham for a segment set to air Oct. 28, women in the crowd confronted the controversial star about her January 2013 revelation that she waxed her daughter Sophia's eyebrows while the little girl slept.
Article continues below advertisement
"Why did you do it?" one audience member asked.
Abraham claimed, "After that whole situation in the media, I actually got a lot of fan mail from girls who were younger, who did have unibrows and they only wished that their moms would have helped them."
Another woman then got so agitated she exclaimed to Abraham, "My head is going to pop off, I swear! That is crazy. You're making a little girl believe that without you plucking her eyebrows, she won't have pretty pictures. She's four. She's beautiful."
A defensive looking Abraham replied, "Actually, I didn't. It's not even pictures and it's not that I'm telling my daughter she's not beautiful and to be honest with you, she was sleeping."
The woman, who was noticeably older than Abraham, then shouted, "Oh, my God. So that makes it better?!"
The Back Door Teen Mom star fought back by attacking her critic's age!
"Oh, my God. You know I can be just as dramatic as somebody who is older than me right now," Abraham sneered. "That's just ridiculous."
The audience member told host Frankel, "She's out of her mind, I'm sorry."
Things got so tense that Frankel intervened, telling the audience, "Someone just said 'so much for the no judgement zone' and I don't invite people on here to beat them up. That's not what this show is about. It's about having a conversation so we can all get to the next place."
Frankel asked Abraham if she was okay, and the former reality TV mom pursed her lips and said tersely, "I'm good."