Fan Wins $20,000 With Basketball Halfcourt Shot, Will Pay For Wife's Mounting Cancer Bills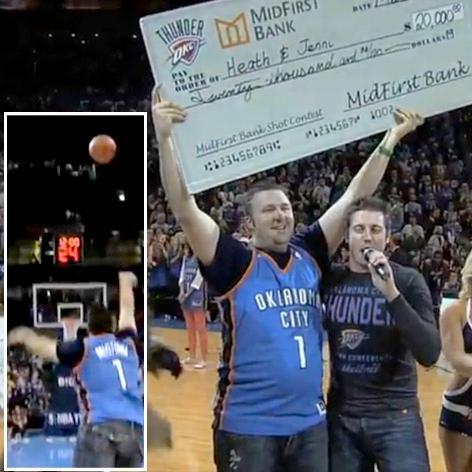 Everybody loves seeing a fan make one of those stunning halfcourt shots that are often staged as promotions during NBA games. But one man's shot during the Oklahoma City Thunder - Los Angeles Lakers game was extra special for reasons that went way beyond getting the ball through the hoop.
Heath Kufahl was the fan pulled from the stands Tuesday night. Handed a jersey to wear and the ball to throw, the Christian Heritage Academy volleyball and basketball coach took his best shot.
Article continues below advertisement
He scored! And the thousands of fans in Chesapeake Energy Arena went wild.
The $20,000 Kufahl took home is already committed, The Oklahoman is reporting.
Kufanl's wife, Jenni, was diagnosed with Stage 3 colon cancer five months ago, and the couple -- parents to seven kids -- are dealing with an overwhelming number of medical bills.
"It took awhile for it to kick in," said a proud Jenni. But she's convinced it wasn't luck but a higher power that was behind her husband being picked and then making the shot.
Incidentally, the Thunder beat the Lakers 122-105. Maybe Kobe Bryant and company could learn something from the Kufahls.
youtube