Eminem 'Freaks Out' On Live TV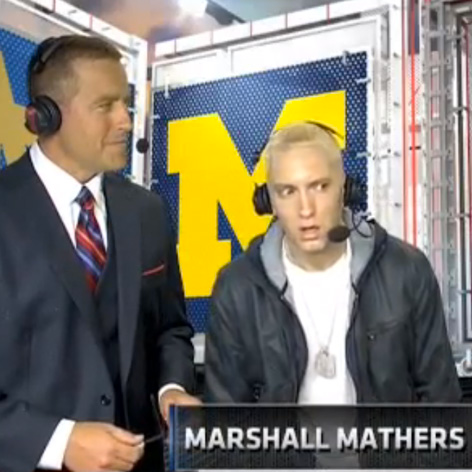 Eminem made an extremely rare appearance on live TV Saturday and the result wasn't pretty.
Going by his given name, Marshall Mathers, the rapper was on ESPN's Saturday Night Football, interviewed by hosts Brent Musburger and Kirk Herbstreit in the broadcast booth during halftime at the Michigan - Notre Dame game.
With his mouth hanging open, Eminem gazed confusingly into the camera and around the set.
Article continues below advertisement
Then it really got weird!
"I'm really uncomfortable right now. Live TV freaks me out a little bit," he confessed.
There was also some awkward banter about Eminem's upcoming album, Marshall Mathers II, with the rapper giving a less than enthusiastic sales pitch.
"When it will be out November 5, I'll probably be most excited to be done with it," he said. "It's kind of a revisit to the first Marshall Mathers album."
The Detroit native and resident did show a surprising new side, however. He appeared to be extremely knowledgeable about football and football broadcasters.
He'll be the "voice" of the Saturday Night Football for the rest of the college football season.
youtube=https://www.youtube.com/watch?v=ddG1djiwWLU&w=420&h=315