Living Nightmare: Kidnapped Teen Elizabeth Thomas' Mom Accused Of Child Abuse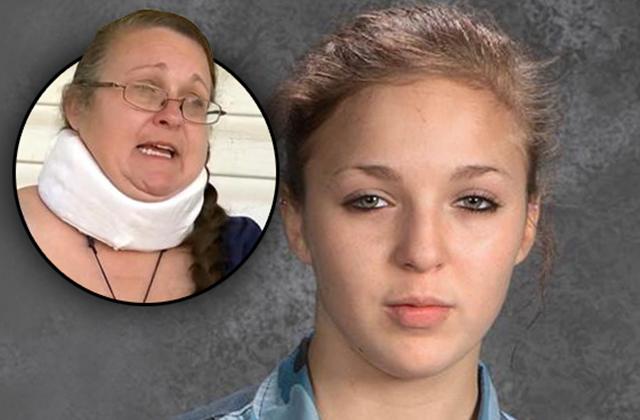 Elizabeth Thomas' scary ordeal at the hands of her teacher turned kidnapper is over, but shocking court documents obtained by RadarOnline.com give a glimpse into her dark family life.
Elizabeth's mom Kimberly Thomas, 48, has been charged with one count of felony child abuse and four counts of misdemeanor child abuse, according to court documents obtained by Radar.
Kimberly reportedly has not seen her daughter since her dramatic rescue from teacher Tad Cummins in a commune in California, after a restraining order was issue against her prohibiting her from having contact with Elizabeth.
Article continues below advertisement
Kimberly allegedly abused five underage children between 2014 and 2015.
"Defendant allegedly made the victim "undress" in front of others," the court papers shared with Radar by Burton Scaggs of WGNOW claim.
Other sections of the papers claim that she "forced her to get naked in front of several other people," "beat" her victims until their legs would "bleed," "beat" them in the face, and pushed another's "head into the wall."
Kimberly's charges said she Bbanged her head into the center (agitator) of the washer," and "Allegedly defendant threw her down the basement stairs and locked her down there."
Other shocking charges in the documents claimed Kimberly hit a child "with a wood board, knocking her unconscious," hit one child "while at church," and allegedly threw a child "against the wall and threw a chair at her leg which bruised it."
Another child was "allegedly smacked in the head" for injecting themselves with a sibling's EpiPen.
The case is still open, and Kimberly's next hearing date is scheduled for May 12, 2017. The judge has ruled that no cameras will be allowed in the courtroom.
Stay with Radar for updates to the story.
We pay for juicy info! Do you have a story for RadarOnline.com? Email us at tips@radaronline.com, or call us at 800-344-9598 any time, day or night.