Rudest, Most Obnoxious Customer In America? Woman Goes On Tirade With Racist Insults Because She Didn't Get Receipt!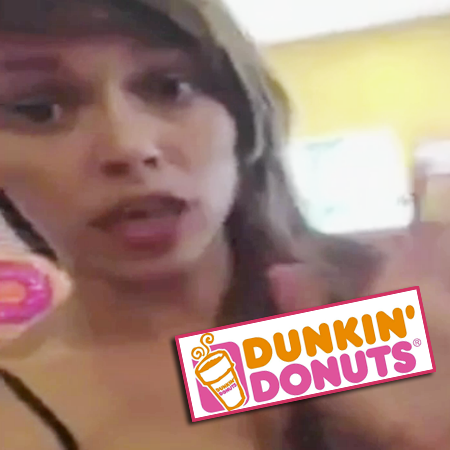 Welcome to infamy, Taylor Chapman.
In what appear to be one of the rudest, most obnoxious and undeserved rants ever, a Florida woman videotaped herself berating workers a Dunkin' Donuts while spewing profanities and racist insults.
Chapman, 27, was apparently incensed by not getting a receipt from the same store the day before she walked back in, with her camera rolling, and proceeded to tape her own idiocy.
Article continues below advertisement
Telling one worker that she the employee from the night before promised her a free order, she said, "I want the whole f***ing menu, b**ch. Twice."
But it gets worse.
"I already posted what your dumb a** did last night," she rants when she sees the person she things served her the night before and committed the great receipt scandal.
"So I hope you're happy with your little f***ing sand n***er self. Cause I'm about to nuke your whole f***ing planet from Mars. You think ya'll are tough big fat Arabs bombin' the Trade Center? I'll show you tough."
Chapman even turns the camera on herself, possibly to make sure we all know what the face of irrationality looks like, attempts to engage another customer in her nutty rant, and then talks about how she is sure workers, um, deposit bodily fluids in her food.
For the record, she says she gives that food to her boyfriend!
The Dunkin' Donuts employees stay calm throughout and no one attempts to pour a large coffee down her throat just to see if a lack of caffeine is the problem.
Warning: Strong Language
youtube