Exclusive
Raw Fish? The Duggars Say No Way To Sushi!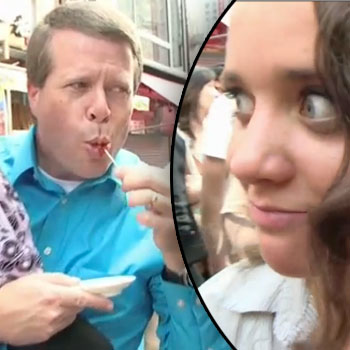 Sushi for dinner? Not in the Duggar household!
The 19 Kids and Counting stars are on their Asia adventure and in this exclusive sneak peek of the upcoming episode of their reality show they all try sushi for the first time – well, some of them.
Jim Bob Duggar is the most adventurous, trying the raw tuna.
"The only time I've ever seen tuna is eating it right out of the can. This is the first time I've ever seen a real live tuna, or I guess a dead tuna," he jokes.
MORE ON:
19 Kids and Counting
Article continues below advertisement
While Jinger looks on horrified, her dad tastes the Japanese delicacy.
"I didn't want to offend them so I tasted it."
However, mom Michelle Duggar could not be persuaded by her husband to try the sushi.
"When it comes to raw fish I prefer to cook it first and then eat it. Otherwise raw fish belongs in the refrigerator or the freezer," she said.
19 Kids and Counting: Duggars Do Asia: Kyoto, Japan airs on TLC Tuesday, March 19 at 9 p.m. ET/PT.