Dr. Phil Grills Teen Mom Farrah Abraham About Her Sex Tape & DUI Arrest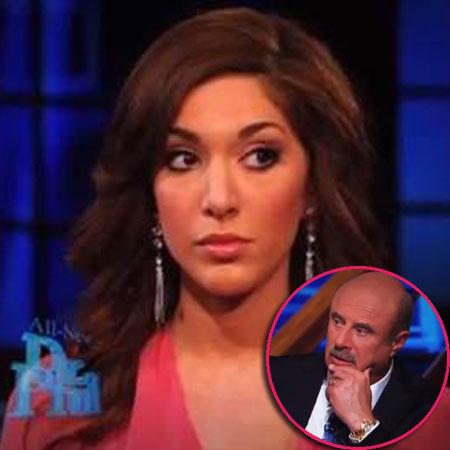 Former Teen Mom star Farrah Abraham -- who apparently hopes to extend her 15-minutes of fame by releasing a sex tape -- gets grilled by Dr. Phil McGraw on Friday's episode of Dr. Phil, and RadarOnline.com has a preview clip.
In the promo for the must-see episode, Dr. Phil confronts Abraham -- the mother of a 4-year-old girl -- for her recent drunk driving arrest, but she refuses to take responsibility for her bad behavior.
Article continues below advertisement
"I drove around a corner and parked," she matter-of-factly tells him.
"So you were driving drunk?" Dr. Phil asks.
"I was actually parked, so, no, I was not driving drunk," Abraham responds.
In another segment of the show, Abraham is asked about the sex tape she made with adult film star James Deen.
"I made my own personal video," she claims, even though Deen recently revealed that Abraham made the film with the explicit intention of leaking it as a sex tape in the hopes of cashing in.
As the interview progresses, Abraham becomes increasingly agitated at Dr. Phil, even telling him at one point, "I'm sorry I'm here."
Dr. Phil has little sympathy for the former MTV reality star and continues to press her.
"Unlike your mother I don't care if you throw a fit or don't," he tells her. "You're upset because I ask questions that you don't have good answers for."
Abraham's father, Michael, and her mother, Debra Danielson, will also appear on the episode and address their daughter's recent bad behavior.
Watch the video on RadarOnline.com
Dr. Phil airs in syndication weekdays. Check your local lists for time and channel information.
youtube