Dr. Phil Reveals His Family Lost Their House In Oklahoma Tornado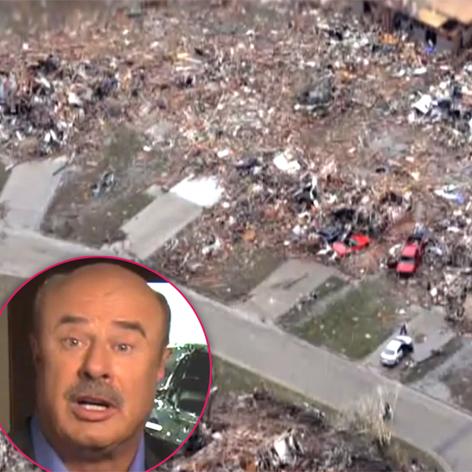 Dr. Phil McGraw was personally affected by the tornado that ripped through Oklahoma on May 20, revealing that his family lost their entire house to the massive twister.
"Oklahoma is a place that is very dear to my heart, and this tragedy has affected me personally as well. I have family there whose entire house was wiped off this land," the talk show host said in a heartfelt video message from The Dr. Phil Show.
Article continues below advertisement
"I spent many wonderful years living there. I went to middle school and junior high there. I attended college in Oklahoma!"
Dr. Phil, 62, may rake in millions a year but the celebrity shrink is still a Southerner at heart.
"Those fortunate enough to survive this natural disaster now have to face rebuilding and healing after losing everything," he says in the clip.
"I know the wonderful people of Moore, Oklahoma and I know they have a strong survivor spirit that will help carry them through this tragedy."
Dr. Phil stresses that the survivors need help and asks for donations to help with food, water and shelter — sending viewers to the drphilfoundation.org.
"Every penny given will go directly to those in need," he says.
"My thoughts and prayers are with all the wonderful people who live in the place I'm honored to have called home."
radar_embed service=youtube src="https://www.youtube.com/embed/sNLGS3Afs-s" width="560" height="315"