Checkmate! Who Made The Wrong Moves & Got Fired On Celebrity Apprentice?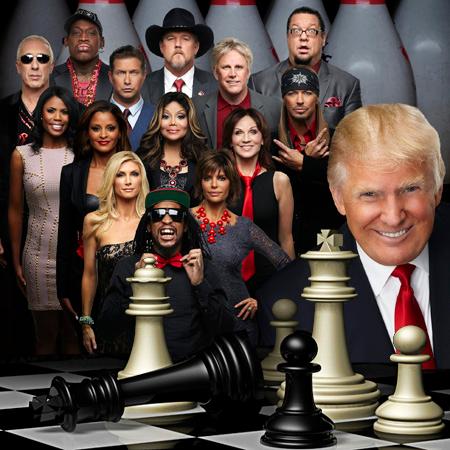 The final five got down to business on All-Star Celebrity Apprentice on Sunday night, but it all went wrong for one project manager who wasn't much of a party animal. In fact, the star got blasted in the boardroom for deciding to feature the game of chess at a party. And it meant checkmate -- in more ways than one -- and getting fired from the NBC reality show!
SPOILER ALERT: Who Got 'Fired' On All-Star Celebrity Apprentice
Article continues below advertisement
With Penn Jillette, Lisa Rinna, Trace Adkins, Lil Jon, and Marilu Henner as the five remaining celebrities, this week's task was to throw a promotional party for Foxwoods Casino at a suite at Brooklyn's new Barclays Center. But the challenge didn't work for the show's Miss Memory, Marilu, who acted as project manager for Team Power, overseeing her teammates Lil Jon and Trace. Her decision to hire a chess master to teach the game at the party didn't impress Donald Trump and he said, "There were mistakes made as project manager. Marilu, you're fired."
The former Taxi actress got the dreaded limo ride home instead of making it to the All-Star final four and expressed her frustration at Lil Jon and Trace: "I really think that my two teammates kind of checked out....Trace definitely checked out. He wasn't at his best. His mother should have kept him home because I think he had the flu." Marilu, 61, also implied in her exit comments that her co-stars thought they could sail into the final four by not helping her. Trace and Lil Jon knew after words were exchanged during a tense boardroom battle that Marilu wasn't happy. "She's mad," Trace mumbled at the end of the show, and Lil Jon agreed.
Article continues below advertisement
But it all went sour for Marilu after Trace couldn't line up A list entertainment for their promotional party for the casino, which featured a "king" theme from the deck of cards. Because of a snowstorm in New York, Trace's fellow country star Dolly Parton was unable to come and perform, so country up-and-comer Hunter Hayes sang for the partygoers instead. Team Power's only other celebrity guest was Countess LuAnn de Lesseps from The Real Housewives of New York City. And execs found the party dull, as Marilu had arranged chess boards as an intellectual nod to the king theme, instead of taking advantage of Lil Jon's status as "the king of crunk" and having him play the king and entertain as a DJ.
This week's guest advisor, country star John Rich, who won Celebrity Apprentice 4, and Donald Trump both questioned Marilu's moves (particularly the chess one) during their boardroom interrogation. Trump asked Marilu about her Barclays Center party, "Why would you want to play chess at a game or concert?" The actress whined, "I was hoping Trace would bring in the entertainment. He had mentioned Dolly Parton." While everyone has noticed Trace's lack of energy in the competition, Lil Jon defended him, saying, "Marilu moved so fast. It was overwhelming for him." In fact, both male stars dragged their feet under Marilu's leadership and she told Trace at one point, "You operate a notch above death." Trace bitched about Marilu behind her back: "We've got the party planner from hell." And later, Marilu complained to Trump that both guys let her down: "I felt like the substitute teacher that's running the detention room."
Article continues below advertisement
Meanwhile, Penn and project manager Lisa's Plan B operated like a well-oiled machine and they threw a party with a "joker" theme that was full of fun, with Penn's magician partner Teller swallowing needles, celebrity chef David Burke whipping up the food, and comedienne and Celebrity Apprentice 5 star Lisa Lampanelli telling jokes for the crowd. By winning on Sunday night, project manager Lisa has now raised more than $500,000 for her St. Jude's charity and is in the show's final four with Penn, Trace, and Lil Jon. Her fellow actress Marilu, however, was sent home fuming!
Watch the video on RadarOnline.com
All-Star Celebrity Apprentice returns next Sunday at 9/8c on NBC.