David Letterman Tells Fired TV News Anchor : 'They Should Apologize And Hire You Back!'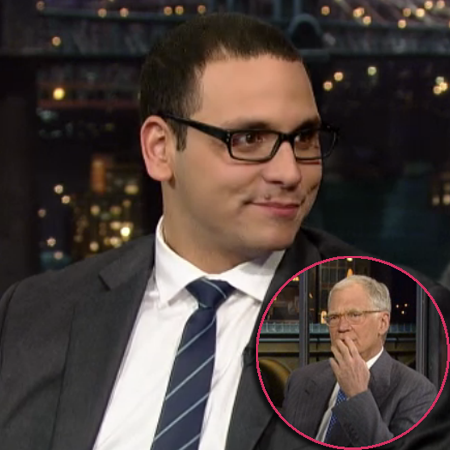 Fired TV news anchor turned media sensation A.J. Clemente continued his "You just have to laugh at yourself" press tour Wednesday night – appearing on The Late Show with (a sympathetic) David Letterman.
Letterman – who cut his teeth in broadcasting as a jokester weatherman in Indianapolis in the 1970s -- seemed especially taken aback by KFYR-TV's decision to sack him after his (unfortunate) first time anchoring the weekend evening news on the NBC affiliate in Bismarck, North Dakota.
Article continues below advertisement
"Now, what about these goons in Bismarck? Are they going to give you the job back?" Letterman asked the likeable Clemente, who laughingly responded, "They aren't goons, but..."
Letterman then interjected, "You're better than that…"
He then added, "There should be an offer, and they should apologize to you. And you should go back because you're man enough to face the music. You've been on this show, you've been on a lot of shows, you've been on the Twitter and on the Facefeed and all of that stuff. If you want to, you should be offered that job back. Now, would you take it if they said to you, ''A.J., come on back, we accept our responsibility in this. Everybody makes mistakes. Let's go forward.'"
Clemente said he's "thought about that, but if ESPN came knocking…" to which Letterman quipped, "Look, I'm trying to get you the job back in Bismarck, forget about ESPN. That ain't gonna happen. You're going back to Bismarck."
youtube
As RadarOnline.com previously reported, Clemente's first day of anchoring went so badly that he was promptly suspended and then fired after dropping the f-bomb on live television during KFYR-TV's 6pm newscast last Sunday.
Article continues below advertisement
"F*cking sh*t," the rookie anchor was heard whispering into his microphone as an announcer introduced the newscast. In his defense, Clemente says the newscast started thirty seconds early, and that neither he, nor his co-anchor, were given any warning that they were live on the air.
youtube
In fact, Clemente will be back on 'Live' Thursday; during his appearance on Wednesday, the hosts invited him to serve as their special red carpet correspondent at the Wednesday night NYC premiere of Pierce Brosnan's new film, Love Is All You Need.