Dancing With The Stars' 16th Season Premieres: Who Soared & Who Stumbled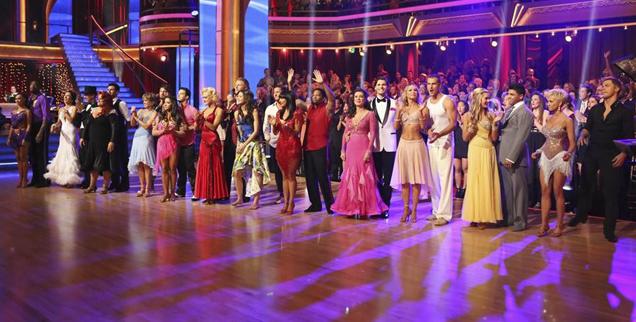 Dancing with the Stars' 16th season kicked off Tuesday, with a surprise celeb at the top of the standings, and a funnyman (who's probably not laughing) at the very bottom of the leaderboard.
SPOILER: Who Scored Highest In Dancing's Return?
Sixteen-year-old Disney star Zendaya Coleman made history as the show's youngest-ever contestant in her debut Monday, and put an exclamation point on the milestone by scoring a night-high 24 points from judges Bruno Tonioli, Carrie Ann Inaba and Len Goodman.
Article continues below advertisement
Funnyman D.L. Hughley was dead last, scoring an embarrassing 12 points.
"I'm a singer, actress, hip-hop dancer, and now I'm going to try to become a ballroom dancer," Zendaya said before her contemporary dance with partner Val Chmerkovskiy got rave reviews from the trio.
youtube
"Three words I thought I would never say in week one -- that was great," Len said, while Bruno lauded her saying, "Sweet 16 and superb debut!
"I can't wait to see you in other dances," Bruno said. "It's so inspiring to see a young girl doing so well."
Carrie Ann -- calling Zendaya's routine "amazing" and "beautiful" -- told the teen, "You are a fantastic dancer with a maturity that is unexpected … I love the passion. Way to go: way to shake it up!"
Another notable debut Monday was that of The Real Housewives of Beverly Hills' Lisa Vanderpump, who tied for eighth place getting 18 points for her foxtrot with rookie dancer Gleb Savchenko, who she had white-hot chemistry with.
Article continues below advertisement
"Sometimes I feel it's almost being unfaithful,"said Lisa, who's married to Ken Todd. '"I'm happy to be as unfaithful as it takes, but jeez, it's really in your face."
Vanderpump, who emerged with her tuxedo-clad dog named Giggy, delivered a routine the judges didn't go crazy for, but probably made a positive enough impression to survive the week.
Carrie Ann told her she was "out of sync a little bit," while Len called it "acceptable, not exceptional."
On the night, the point totals for the respective dances were: Zendaya, 24, contemporary; Dorothy Hamill 21, contemporary; Kellie Pickler, 21, cha cha cha; Aly Raisman, 21, cha cha cha; Ingo Rademacher, 20, contemporary; Jacoby Jones, 20, cha cha cha; Sean Lowe, 19, foxtrot; Victor Ortiz, 18, foxtrot; Wynonna Judd, 18, cha cha cha; Andy Dick, 17, foxtrot; and D.L. Hughley, 12, cha cha cha.
Fun fact: Bruno appeared as the lead dancer in the video for Elton John's 1983 classic, I'm Still Standing.
Watch the video on RadarOnline.com
Dancing with the Stars returns Tuesday at 9/8c on ABC.