Who Was PERFECT On Dancing With The Stars' Trio Night?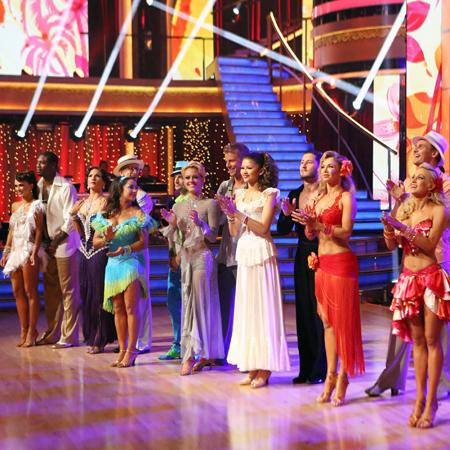 At last! For the first time this season, a Dancing with the Stars contestant received a perfect 30-out-of-30 score on Monday night's episode, which had the dancing duos perform two routines: one regular, one with a third partner added to the mix, and we've got all the details for you right here on RadarOnline.com.
SPOILER: Who Got The Season's First Perfect Score On DWTS?
It took judges Carrie Ann Inaba, Len Goodman and Bruno Tonioli long enough, but they finally saw a dance that had them all flashing 10s -- Zendaya's salsa dance with partner Val Chmerkovskiy and pro dancer Gleb Savchenko.
Article continues below advertisement
"It was a star turn -- sizzling and dazzling and amazing," Bruno said, while Carrie Ann claimed she "loved the whole thing.
"You are the queen of the Salsa," she told the teen. "You guys were just fabulous."
The Disney star also racked up 28 points for her foxtrot, leading the night with 58 out of 60 possible points.
A minor controversy ensued during another dance Monday which some said should have also been deemed perfect: Kellie Pickler's paso doble with partner Derek Hough and extra Tristan MacManus. While Carrie Anne and Bruno heaped nothing but praise on the former American Idol contestant, Len gave her a mediocre seven points, and a weak appraisal to boot.
"I was expecting more than flashing lights and crashing music," Len said, calling the display "a hodgepodge of moves just out there to titillate the taste buds."
"I can't believe it, this girl is so talented!" Len griped. "I don't want to see flashing lights, crashing music -- I wanted a paso doble!"
Len's digs brought an equally spirited reaction from the other judges, as the trio bickered and finger pointed amongst themselves, spurring host Tom Bergeron to joke, "Someone hose them down!"
Watch the video on RadarOnline.com
Elsewhere, the point totals were: Aly Raisman, 56 points (Argentine tango 29, jive 27); Pickler, 55 (Viennese waltz 28, paso doble 27); Jacoby Jones, 52 (Viennese waltz 27, paso doble 25); Ingo Rademacher, 48 (foxtrot 24, jive 24) and Sean Lowe, 42 (tango 21, jazz 21).
Dancing with the Stars returns Tuesday at 9/8c on ABC.