Cynthia Bailey And Peter Thomas' Marriage Rocked After Cynthia's Sister Drops MAJOR Bombshell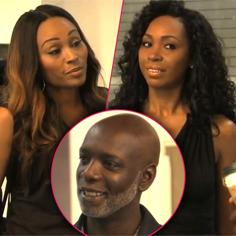 Cynthia Bailey's sister returns to The Real Housewives of Atlanta this season -- and she has a big announcement that could hurt Cynthia and her husband Peter Thomas' relationship.
In a new preview for Sunday night's episode, Malorie Bailey-Massie drops a major bombshell: she's relocating to Atlanta for a few months — and is moving into the couple's home.
Peter protests the move.
"You just move into people's houses without asking them?" Peter questions, before turning to his wife. "We never had a talk about this at all... I'm surprised."
Article continues below advertisement
"I didn't know. She just told me," Cynthia tells Peter.
"Surprise!" Malorie smirks.
As RHOA fans may recall, Malorie and Peter have never gotten along: She tried to hide the couple's marriage license on their wedding day and revealed during filming that she was concerned that Peter was taking advantage of her sister and her finances.
"These types of things need to be between you and I," Peter tells Cynthia.
Cynthia explains to the Bravo cameras, "My family is always welcome in my life. However, they just can't come up in here and disrupt stuff now. I think my relationship with my husband works really well when people respect our space."
"You are crazy as hell," Peter says as he walks away from the sisters.
Watch more of the heated exchange below: