Uh-Oh! Courtney Stodden Hints She Might Leave Besotted Husband If She Becomes Independent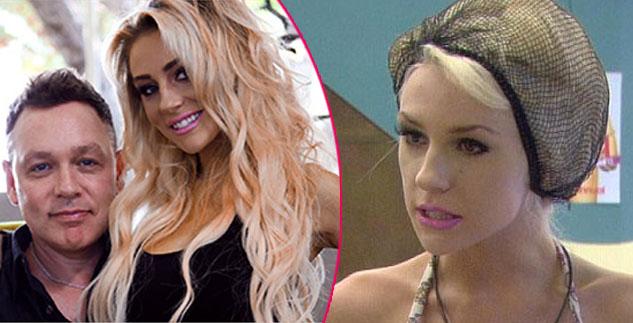 Courtney Stodden has always said her decision to tie the knot with Doug Hutchinson was because she was in love with him, but the teenager has finally admitted that if she gained any independence her marriage would be over.
The surgically enhanced Teen Bride is starring on Celebrity Big Brother UK where she is separated from her hubby and she is struggling with gaining her own footing in the house away from Doug.
Article continues below advertisement
"It's hard. It's not easy. I don't think people understand how hard it is in here," the buxom blonde said about staying apart from her soul mate.
Courtney was allowed to briefly leave the house and see Doug if she gave up all of her sexy clothes and makeup, which she did, and upon her return to the house she explained to her co-star, Lauren Harris, why she is afraid of what she is learning and seems to hint that her marriage could be cracking.
"He means so much more to me than this freaking house and I don't want to leave this house feeling so strong and independent that I can't depend on him anymore," Courtney said to Lauren.
"I don't know if you get it. You've never experienced a man who loves you and wants to love you forever and won't let go," Courtney said about Doug's feelings and actions towards her.
"I don't ever want him to let go and for him to feel like he can let go."
When Lauren tells her that she needs her independence, Courtney agrees but says she's conflicted.
"I'm trying to balance everything. I'm only 19 and I'm trying to balance everything."
Do you think Courtney might be questioning her marriage? Tell us in comments!