College Students Perform Harlem Shake Dance On Plane, FAA Not Amused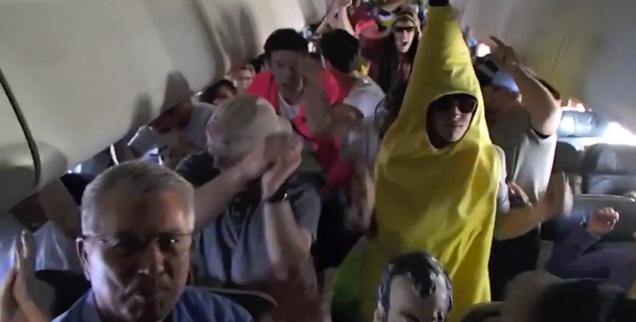 An airplane is probably not the best place to stage a flash mob dance, but that's exactly what some Colorado college students did mid-air anyway, and RadarOnline.com has the video that's quickly gone viral.
Many members of the Colorado College Ultimate Frisbee team – including one student dressed as a banana -- performed the Harlem Shake Dance in the aisles of the plane en route from Colorado Springs to San Diego over the weekend.
Article continues below advertisement
While the video is certainly amusing, the Federal Aviation Administration apparently isn't laughing -- it's trying to determine if the students violated any rules when they got out of their seats to bust a move.
According to KMGH-TV, Frontier Airlines says all safety measures were followed and the seat belt sign was off at the time.
The video was posted on YouTube on February 15, and as of Friday morning, it's received nearly 700,000 views!