Watch: Chrissy Teigen Slams Kanye West & Taylor Swift Feud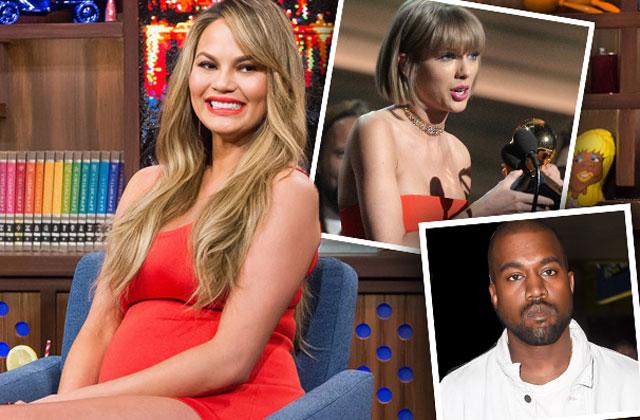 As a friend to both singer Taylor Swift and rapper Kanye West, Chrissy Teigen knows first hand how awkward their feud has been — and it's not over yet!
During a new segment of Watch What Happens Live, the model, 30, revealed how Swift's shade-throwing Grammy acceptance speech put her in a difficult position.
"Oh man. See, it's so hard when you're put in the middle like that. It's tough," Teigen said, adding of Swift's speech, "I didn't get to see it live, but I don't know. It's so awkward. It's like an uncomfortable moment. It's just weird. John Legend and I both were very uncomfortable by it."
Article continues below advertisement
As Radar previously reported, Swift dished West a major payback for his The Life of Pablo antics about her, saying during her acceptance speech: "I want to say to all the young women out there, there are going to be people along the way who will try to undercut your success or take credit for your accomplishments or your fame. But if you just focus on the work and you don't let those people sidetrack you, someday, when you get where you are going, you will look around and you will know that it was you and the people who love you who put you there."
Ouch! Taylor certainly knows how to dig the knife in on her frenemies.
But according to Teigen, the battle has only just begun between the feuding stars, who have a long history of conflict.
"Let me tell you, it's not over. This is going to go on. This is being waged," she told show host Andy Cohen.
Who do you think will win in this artist battle: Yeezus or T. Swift? Let us know in the comments below!