Chinese TV Reporter Leaves Her Own Wedding -- Wearing Her Gown -- To Cover Earthquake!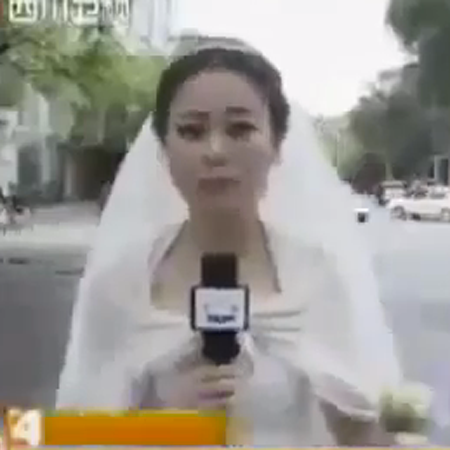 They say rain on your wedding day is good luck, but what about an earthquake?
Chen Ying, a TV reporter at a local news station in China, was about to get married on Saturday when a 7.0 magnitude earthquake hit the city where her nuptials were taking place.
Though many brides might consider a natural disaster of that size a bad omen, Ying, whose news instincts immediately kicked in, didn't waste much time thinking about her wedding. The bride, who was getting ready for her impending nuptials when the quake hit, immediately jumped into reporter mode.
Article continues below advertisement
Still wearing her wedding dress and veil, Ying grabbed a microphone and dashed to the streets, where she began reporting on the earthquake.
Watch the video on RadarOnline.com
It didn't take long for footage of Ying interviewing local survivors in her wedding dress to hit YouTube and go viral. A photo of Ying reporting in her wedding gown has also been shared thousands of times on Chinese social media, and many have praised the bride for her "professional spirit" during the disaster, which struck China's Sichuan province and has left at least 156 people dead and more than 5,500 injured.