Gypsies, Tramps, And (Car) Thieves! Jay Leno Embarrasses Cher By Showing Her Mug Shot At Age 13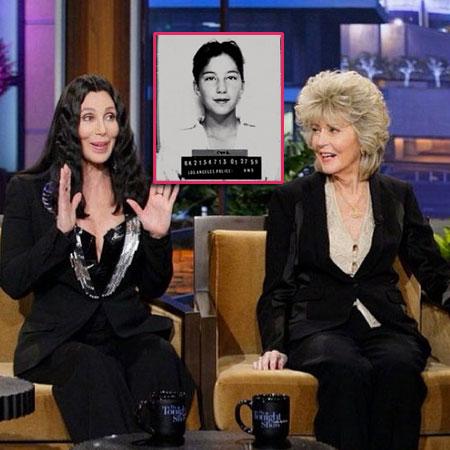 If you thought Cher is a hell-raiser at 66, you should have seen her at as a kid!
The Oscar winning actress/singer stopped by The Tonight Show with Jay Leno Tuesday, along with her mother, Georgia Holt, 85, to promote their upcoming Lifetime documentary entitled Dear Mom, Love Cher.
During their chat, Leno surprised Cher by bringing up her stealing  -- make that "borrowing" --  her mom's car when she was 13-years-old.
Article continues below advertisement
Explained Cher, "I learned how to drive when I was 11-years-old…"
"I didn't know it," interjected Georgia in a motherly tone.
"I'm a very good driver now," Cher added. "Anyway, actually I took the car many, many times…"
"My car," Georgia chimed in, before Cher could proceed with her story.
"One night I was with my girlfriends and their boyfriends, and we were outside this bowling alley and he said 'Cher, I know you can drive, I have to go do something, will you just stay outside and keep the car running?' We were out there FOREVER, and people were honking, and I kept having to move it, and I kept having to move it, and I kept getting bigger circles, then I left the parking lot, and then I thought we could go to  drive-in, and then the police came."
"And they called me at 3:30 in the morning and said 'we have your daughter down here at the police station'," mom added.
Then, much to Cher's chagrin, Leno showed her mug shot from when she was 13!
Watch the video on RadarOnline.com
The Tonight Show with Jay Leno airs weeknights at 11:35/10:35c.  The special one-hour documentary, Dear Mom, Love Cher, airs Monday, May 6 at 10/9c on Lifetime.