Chelsea Houska's Daughter Aubree Cuddles Up To Controversial Dad Adam Lind And Her Half Sister, Paislee: 'I'm Your Big Sister!'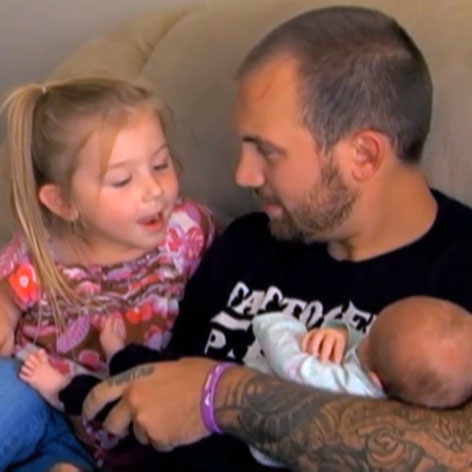 Teen Mom 2 star and Chelsea Houska's ex, Adam Lind, who recently got into a fiery accident and was charged with five crimes - reckless driving, driving with a revoked license, driving with a suspended license, and driving without insurance has a new responsibility: taking care of his newborn daughter, Paislee.
In a preview for the upcoming episode of Teen Mom 2, Lind took time away from his bad boy routine to spend time with Paislee as his daughter, Aubree, from his relationship with Houska, got to know the newborn.
Article continues below advertisement
The video kicks off with Aubree crawling up on the couch and looking over Aubree saying, 'I'm your big sister.'
Aubree then asks Lind's new girlfriend/baby mama, Taylor Halbur, if they could take little Paislee with them to go swimming.
Four-year-old Aubree has plenty of questions and comments about her little sister.
"I'm going to show her to my mom later," Aubree says.
As Teen Mom fans know, Lind and Houska had a roller coaster ride of a relationship and parted ways on not such good terms.
Teen Mom 2 airs on MTV, Tuesday at 10/9c