Russell Brand Wants Foursome With Kim, Kourtney & Khloe Kardashian!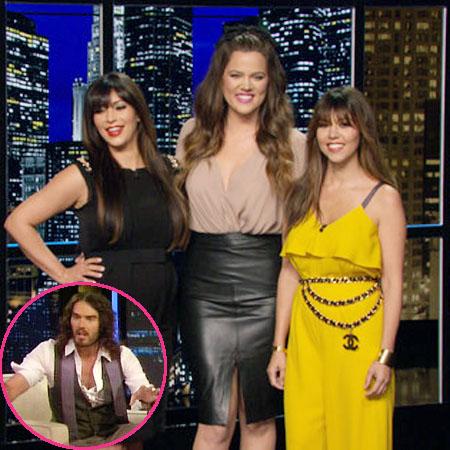 Kim, Kourtney and Khloe Kardashian, led by "Momager" Kris Jenner, took over Chelsea Lately Monday night, sitting down with English funnyman Russell Brand.
Brand didn't disappoint in living up to his racy reputation, suggesting he'd be game for group sex with the sisters.
"I'm vulnerable to the concept of a KKK threesome," he said, at which point Khloe motioned to Kim and said, "Well, I heard pregnant p***y is the best p***y."
Article continues below advertisement
"I think pregnant women are radiant and beautiful and the idea of lactation is an interesting one," the Katy Perry ex said. "A limitless, foaming river of milk and orgasm."
Elsewhere, the sisters wondered about about what Chelsea Handler was doing on her night off, with Kourtney speculating, "I'm sure she's doing something really important, like drinking."
"Or having sex with somebody that she just met," Khloe chimed in.
The sisters, in unison, then said, "F**k you, Chelsea!"
Watch the video on RadarOnline.com (Warning: Content Is Explicit)
As we previously reported, the Hollywood hijacking came after Chelsea continued pummeling her E! stablemates with jabs.
In the appearance, the pregnant Kim made up for the uneven insult score, as she joked she and Chelsea now "fit into the same size dress!"
Chelsea Lately airs weeknights at 11/10c on E!