Hear Charles Ramsey's Dramatic Call To 911 After He Helped Amanda Berry Out Of House Of Horrors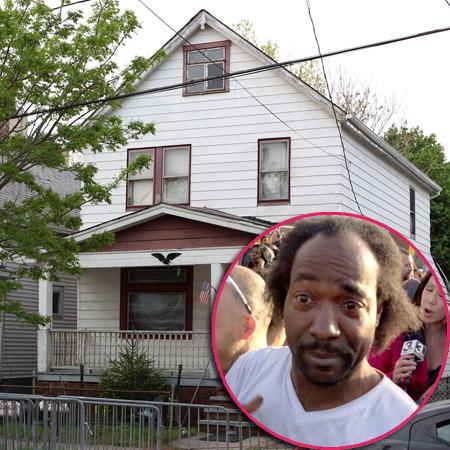 Charles Ramsey -- the man who helped Amanda Berry out of the home police say she and two other women were held captive in for around a decade -- is heard in a just-released 911 call alerting authorities to the ghastly scene that had unfolded Monday night, and we've got all the details for you right here on RadarOnline.com.
The call -- with expletives edited out -- goes as follows:
Ramsey: Hey bro, check this out. I just came from McDonald's right? So I'm on my porch eating my little food, right? This broad is trying to break out the expletive house next door to me, so there's a bunch of people on the street right now and expletive. So we're like, 'What's wrong, what's the problem?' She's like, 'This expletive done kidnapped me and my daughter ... she said her name is Linda Berry or some expletive. I don't know who the expletive that is, I just moved over here, bro. You know what I mean?
Article continues below advertisement
Dispatcher: Sir, sir you have to calm down and slow down. Is she still in the street?
Ramsey: Seymour Avenue.
Dispatcher: Is she still in the street or where did she go?
Ramsey: Yeah I'm looking at her, she right now. She calling you all, she on the other phone.
Dispatcher: Is she black, white or Hispanic?
Ramsey: Err she's white, but the baby looks Hispanic.
Dispatcher: Okay what is she wearing?
Ramsey: Err white tank top, light blue sweat pants, like a wife-beater.
Dispatcher: Do you know the address next door that she said she was in?
Ramsey: Yes 2207, I'm looking at it.
Dispatcher: Okay I thought that was your address, that house.
Ramsey: No, I'm smarter than that, I'm telling you where the crime was, not my house.
Dispatcher: Sir we can't talk at the same time, do you want to leave your name and number?
Ramsey: Charles Ramsey, R-a-m-s-e-y.
Dispatcher: Are the people she said that did this do you know if they are still in the house?
Article continues below advertisement
Audio: Listen To Charles Ramsey's 911 Call After Helping Amanda Berry
McDonald's didn't let the priceless plugs go unnoticed, tweeting their thanks to Ramsey, a dishwasher at a local restaurant, in the wake of the incident.
"We salute the courage of Ohio kidnap victims & respect their privacy," the company said. "Way to go Charles Ramsey - we'll be in touch."
As we previously reported, two of the women -- Berry (and her 6-year-old daughter Jocelyn) and Gina DeJesus are staying at undisclosed locations. The third woman, Michelle Knight -- who was diagnosed with loss of hearing and facial bone damage, from years of beatings -- is expected to be released from the hospital Wednesday.