Casey Anthony Trial Judge Speaks: There Was Enough Evidence To Convict Her, Justice Will Eventually Be Done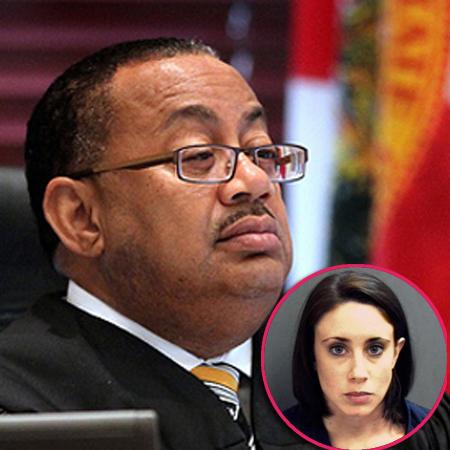 In amazingly candid comments, Judge Belvin Perry Jr., who presided over the Casey Anthony murder trial, says there was sufficient evidence for a first-degree murder conviction.
Breaking his two-year silence, he also described the defendant as highly manipulative, putting on an act for the jury that quickly faded when they were out of sight.
And the judge says that even though the Tot Mom was acquitted she will face justice one day from the "Judge of judges."
Article continues below advertisement
"Justice has been served in the sense that the jury has spoken but justice will finally be served one day by the Judge of judges," Perry told the TODAY show Monday.
"And she's going to live, deal with this for the rest of her life."
While Anthony was shown as wrongly accused in front of the jury, she was "transformed" when they were out of sight – and clearly in control, even yelling at her own lawyers.
Visit NBCNews.com for breaking news, world news, and news about the economy
"She was very commanding, she took charge of different things, and you could see her sometimes scolding her attorneys," Perry said in the new interview, two years after the trial.
That was never more evident than the day Anthony's attorneys presented her with a plea deal – a day that left the judge with an unforgettable memory.
MORE ON:
Celebrity Justice
Article continues below advertisement
Perry told TODAY: "I will never forget that day. All of a sudden, you heard shouting coming from the holding cell, some four-letter words coming from the holding cell, and she was quite upset. So upset that one counselor suggested that she was incompetent to proceed."
Anthony was found not guilty in the death of her two-year-old daughter Caylee in a trial that still outrages many.
And Perry was just as stunned as everyone else, describing his reaction to the verdict as "shock" and "disbelief."
He praised Anthony's lead attorney Jose Baez but likened him to a used car salesman.
"He came across as someone that you would like," the judge said. "It's like someone trying to sell a used car. Who are you going to buy it from? The most likable salesperson."