Carrie Underwood Wipes Out On Stage, Ends Up In Leg Brace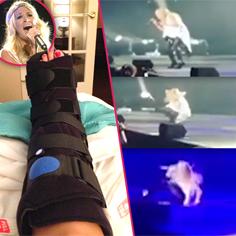 During a concert in Corpus Christi, Texas, on Thursday night country star Carrie Underwood wobbled on her five-inch heels and took a spill that landed her in a leg brace and RadarOnline.com has the video.
Underwood didn't miss a beat after her fall, continuing to sing while fans cheered her on.
She later tweeted about her embarrassing slip:
"I can't move my toes. Is that bad?" Underwood joked.
Late Thursday night she tweeted a photo of her foot in a brace and captioned it, "Good news, it's not broken…AND I got some new footwear!"
Article continues below advertisement
Fellow country star Brad Paisley joked that Underwood was drinking alcohol during her show, but she quickly shot back:
Check out the video of her spill below.
youtube=https://www.youtube.com/watch?v=hmRPmAg4MCc&w=420&h=315