It's Blasphemy! Former 'Full House' Star Blasts Kanye West For 'Comparing Himself To Jesus'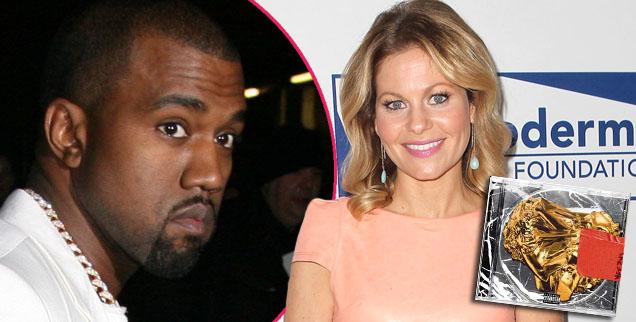 Kanye West's latest album, Yeezus, doesn't drop until June, but it's already drawing criticism: former Full House star Candace Cameron Bure blasted the rapper for his lack of "humility" in "comparing himself to Jesus."
"That is way too close," Candace told Sway on "Sway in the Morning" on Monday. "…It totally bugs me. I have issues with that."
The devout Christian continued, "There's a million other names out there … And you could have chosen one that is not one letter off from Jesus. I mean, that's just a little too close. Come on."
Article continues below advertisement
"He's actually comparing himself to Jesus," she said. "Really?! Should any of us be doing that?! Maybe you should change your name to 'Uda!'
"I think it's more, it comes from a humility point of view. That I would be humbled enough for what Jesus did for me that I don't want to in any way elevate myself or put myself side by side," she added. "Because I'm humbled by his gratitude."
Kanye's BFF Jay Z also was in Candace's crosshairs: "HOVA for Jehova is also way too close," she said. "It bugs me. It totally bugs me."
Meanwhile, Kim Kardashian is also being slammed for tweeting about bronzer during the Oklahoma tornado disaster, as RadarOnline.com reported.
She and her baby daddy can comfort each other about coming under fire, however, since she just flew to France to join her man.
youtube