Bus Driver Arrested For Beating Up Passenger With Insufficient Fare, See The Shocking Video!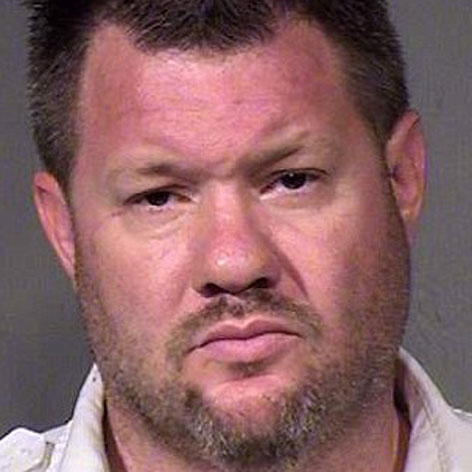 A 45-year-old bus driver in Phoenix, Arizona was arrested on Friday for beating up a 21-year-old man who tried to use a reduced-fare card intended for younger passengers, and RadarOnline.com has shocking video of the incident.
Phoenix police spokesman Sgt. Tommy Thompson told ABC 15 the incident started around 11:45 a.m. when the man tried to board the bus near 19th and Montebello Avenues and an argument ensued.
Article continues below advertisement
Bus driver Todd Allen Shields physically threw the man off the bus and fellow passenger Desirae Madrid recorded what happened next on her cell phone.
"Honestly I didn't know if he knew how to stop the way he was hitting this kid and repeatedly swinging at him. I didn't think he was going to stop," Desirae told FOX 10.
"The bus driver stood up and picked him up to where the kid's feet was literally off the floor and threw him out and I just remember seeing the kid fly off the other side of the little block that's there and his feet were literally in the air."
Once outside the bus, Todd continued to beat and punch the passenger, slamming his head onto a metal bench, so Desirae called the police and gave a report after they arrived.
"It makes me angry and sick to my stomach. He is the driver and deals with the public every day," she told ABC 15.
"He is supposed to be a professional."
VIRAL VIDEO: Rudest, Most Obnoxious Customer In America
The Veolia Transportation company who employs Todd released a statement saying he was put on investigative leave pending a formal investigation.
Todd was arrested at the scene of the incident and charged with assault, disorderly conduct and criminal damage.
"I hope that the bus driver loses his job and can't work with the public," Desirae said.